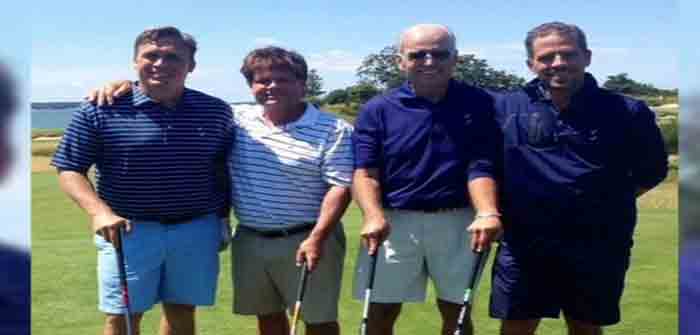 A federal judge named Joe Biden as a possible "witness" along with his son Hunter in a criminal fraud case last year that ended in the convictions of two of Hunter's business partners, according to little-noticed court documents. The Democratic presidential candidate's appearance on a witness list casts new doubt on his claims he knew nothing about his son's shady business dealings.
Joe and Hunter Biden: The father's name appears alongside his son's on a list of dozens of individuals who might pose a conflict for prospective jurors.
Hunter Biden blamed one of his convicted partners — Devon Archer — for his father's name appearing on a list of potential witnesses in a juror questionnaire in the case, which was filed Jan. 11, 2019.
In a 47-minute recording recovered from his abandoned laptop, an agitated Hunter can be heard grousing about calls he's been getting from his father, who apparently was upset with the developments as he prepared to launch his campaign for the White House.
"And I am receiving calls from the U.S. attorney's office [because] my best friend Devon has named me as a witness without telling me in a criminal case — and my father — without telling me," Hunter said in the May 11, 2018, recording, which is believed to be an audiotape of a conversation the troubled son had with an unnamed woman.
Before impaneling a jury in the fraud case, U.S. District Judge Ronnie Abrams of New York asked jurors if they had any dealings with individuals on a list that she provided "whose names may come up during the trial or who may be witnesses in the case." Joe Biden's name appears above his son's on a list of dozens of individuals who might pose a conflict for prospective jurors selected from the jury pool, according to the document titled "Questions for Jurors."
A federal appeals court on Oct. 7 reinstated a jury's fraud verdict against Archer, Hunter's longtime business partner, and he is scheduled to be sentenced in January. In 2018, jurors in Abrams' court found that Archer and two other defendants illegally spent proceeds from bond issues of the Oglala Sioux of Nebraska on personal items. Archer was convicted of conspiracy to commit securities fraud in the bond scheme, which defrauded investors of some $60 million.
A college roommate of Archer's, Hunter was repeatedly implicated in the scheme.
Tony Bobulinski: "I have heard Joe Biden say he has never discussed his dealings with Hunter. That is false."
According to court transcripts, Archer was a longtime business partner of Hunter Biden and the pair were connected to "an opaque investment company, called Rosemont Seneca Bohai LLC, which on information and belief, was affiliated with Rosemont Seneca Partners LLP, an investment company run by Archer's friend and former college roommate, Hunter Biden."
The politically influential Biden name was used to legitimize sale of the fraudulent tribal bonds, according to court filings.
Archer and Hunter also collected millions as board members of Burisma, a Ukrainian energy company, while then-Vice President Joe Biden acted as point man for U.S.-Ukrainian policy from 2014-2017.
Joe Biden has insisted repeatedly that he had no involvement in or even knowledge of his son's business dealings and never discussed them with his son.
"I have never discussed with my son or brother or anyone else anything having to do with their businesses — period," he told reporters in August 2019. "I never talked with my son or my brother or anyone else in the distant family about their business interests, period."
Not everyone is convinced…
Continue Reading