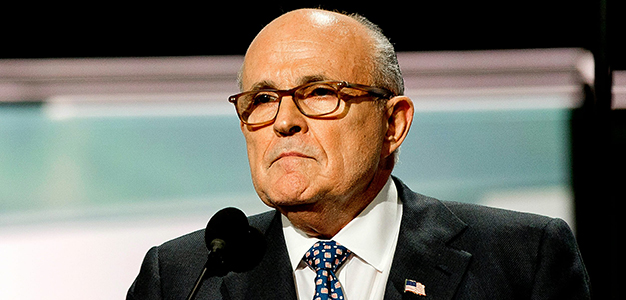 by Jeffrey Lord at The American Spectator
The headline in the New York Post read this way:
Rudy Giuliani's law license suspended in NY over statements on voter fraud
The story reported this:
Rudy Giuliani's law license was temporarily suspended on Thursday by a panel of New York judges who found he made "false and misleading statements" related to voter fraud in the 2020 presidential election.

The ruling from the appeals court said there was "uncontroverted evidence" Giuliani made false statements while he was acting as legal counsel for former President Donald Trump.
In fact, Giuliani has said repeatedly that he had hundreds of sworn affidavits that alleged voter fraud — and that is called evidence. Direct evidence, not made-up stories from Giuliani himself.
The judges — all Democrats — are as follows:
Rolando T. Acosta — the presiding justice of the New York State Supreme Court, Appellate Division, First Department

Dianne T. Renwick

Sallie Manzanet-Daniels

Judith J. Gische

Barbara R. Kapnick
The Post story reported this, bold print for emphasis supplied:
The jurists highlighted a number of examples when Giuliani leveled false claims about the number of absentee ballots counted in Pennsylvania after Biden had carried the state, which Trump won in 2016.

"Respondent made these false claims during his November 8, 2020 radio program, Uncovering the Truth with Rudy Giuliani & Dr. Maria Ryan, during a November 25, 2020 meeting of the Republican State Senate Majority Policy Committee in Gettysburg, Pennsylvania." …
The judges' ruling read,
Respondent repeatedly stated that in the Commonwealth of Pennsylvania more absentee ballots came in during the election than were sent out before the election. The factual "proof" he claimed supported his conclusion was that although Pennsylvania sent out only 1,823,148 absentee ballots before the election, 2,589,242 million absentee ballots were then counted in the election. This factual statement regarding the number of ballots mailed out before the election was simply untrue. The true facts are that 3.08 million absentee ballots were mailed out before the general election, which more than accounted for the over 2.5 million mail-in ballots that were actually tallied.
Hello? Did these judges read the transcript of exactly what Rudy Giuliani said about absentee ballots in that hearing here in my home state of Pennsylvania? Here's the link, and this is what he said, verbatim, about absentee ballots:
I'll give you one other enormously puzzling statistic. You sent out in the State of the Commonwealth of Pennsylvania, 1,823, 148 absentee or mail-in ballots. You received back 1.4 million, approximately. However, in the count for President, you counted 2.5 million. I don't know what accounts for that 700,000 difference between the number of ballots you sent out and the number of ballots that ended up in the count. That number, 2,589,242 was on your government website until yesterday. And yesterday, it was removed without explanation. I'm going to be very interested in hearing what the explanation is. And I can't imagine you could possibly certify without knowing …
Let's repeat the key phrase from Rudy. He said this:
That number, 2,589,242 was on your government website until yesterday. And yesterday, it was removed without explanation.
In other words, Rudy's statement clearly said that the number of absentee ballots he was using was taken directly from the website of the Pennsylvania state government. He didn't make that up. He didn't make it up that the number was then "removed without explanation."
To say otherwise, as these five judges have done, is a bald-faced lie.
The judges amazingly if unwittingly say this: "nor is there any copy of the web page that purportedly listed the allegedly incorrect data."
Again? Hello? Giuliani noted in his testimony that the information he used…
Continue Reading