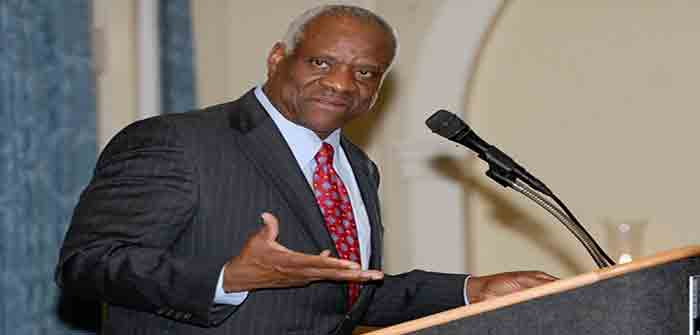 by Tristan Justice at The Federalist
Supreme Court Justice Clarence Thomas offered a roadmap to eliminating rampant social media censorship from online monopolies on Monday.
In a ruling for writ of certiorari on the case of President Joe Biden v. Knight First Amendment Institute at Columbia University, Thomas concurred in an opinion to send the case back to the U.S. Court of Appeals for the 2nd Circuit with instructions to dismiss as moot, now that Biden is in the White House. The case, launched in August, questions whether the First Amendment strips government officials of their ability to block third-party accounts on Twitter if the personal account is used to conduct official business. The lower court ruled Trump violated the First Amendment when blocking users on the platform, which served as a public forum.
"I write separately to note that this petition highlights the principal legal difficulty that surrounds digital platforms," Thomas wrote, "namely, that applying old doctrines to new digital platforms is rarely straightforward."
Thomas went on to outline a blueprint for breaking up protections that enable corporate tech monopolies to engage in widespread censorship frequently in one direction. The conservative justice's argument rests primarily on the monopoly power Big Tech conglomerates possess in Silicon Valley, where unilateral control of the public forum means no real public forum at all.
"It seems rather odd to say that something is a government forum when a private company has unrestricted authority to do away with it," Thomas wrote. "The disparity between Twitter's control and Mr. Trump's control is stark, to say the least."
In January, Twitter kicked then-President Trump from the platform altogether.
"Today's digital platforms provide avenues for historically unprecedented amounts of speech, including speech by government actors," Thomas emphasized. "Also unprecedented, however, is the concentrated control of so much speech in the hands of a few private parties. We will soon have no choice but to address how our legal doctrines apply to highly concentrated, privately owned information infrastructure such as digital platforms."
Aside from Twitter, Thomas highlighted the dominant influence of Google and Amazon. Google, Thomas noted, serves as the "gatekeeper" between users and speech with power over 90 percent of internet searches.
"It can suppress content by deindexing or downlisting a search result or by steering users away from certain content by manually altering autocomplete results," Thomas wrote. Amazon, meanwhile, as the distributor of a majority of e-books and half of all physical books, "can impose cataclysmic consequences on authors by, among other things, blocking a listing."
Earlier this year, Amazon deplatformed conservative scholar Ryan T. Anderson and his book "When Harry Became Sally: Responding to the Transgender Moment," a book critical of the left's efforts to mainstream transgenderism to a radical degree…
Continue Reading