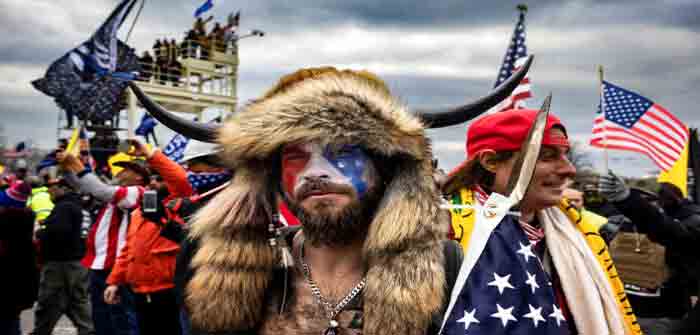 by Joseph M Hanneman at The Epoch Times
The face of the Jan. 6 incursion—the so-called "QAnon Shaman" Jacob Chansley—was peacefully escorted around the U.S. Capitol by police on Jan. 6, Fox News host Tucker Carlson alleged on March 6 in his first special based on exclusive access to 41,000 previously unseen hours of Capitol security video.
Carlson showed CCTV security video of Chansley walking calmly through the Capitol on Jan. 6, 2021. Not only did the police not try to stop Chansley, they escorted him, Carlson said.
"Virtually every moment of his time inside the Capitol was caught on tape," Carlson told his national television audience. "The tape shows that Capitol Police never stopped Jacob Chansley. They helped him. They acted as his tour guides.
"Capitol Police officers take him to multiple entrances and even try to open locked doors for him," Carlson said. "We counted at least nine officers who are within touching distance of unarmed Jacob Chansley.
"Not one of them even tried to slow him down. Chansley understood that Capitol Police were his allies. Video shows him giving thanks for them in a prayer on the floor of the Senate."…
Continue Reading