by ZeroHedge News Staff at ZeroHedge
 The Associated Press has issued an official correction for its not-so-inconsequential bit of reporting Tuesday that could have easily set off a chain of events leading to a WWIII scenario.
"The Associated Press reported erroneously, based on information from a senior American intelligence official who spoke on condition of anonymity" …and we the know rest which unleashed a day of incessant warmongering based on the allegation that Russia attacked a NATO member. The incredibly embarrassing correction further states, "Subsequent reporting showed that the missiles were Russian-made and most likely fired by Ukraine in defense against a Russian attack."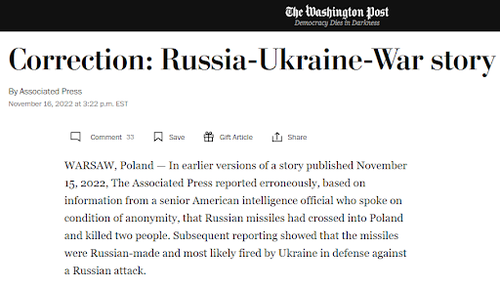 And the next time this happens will it be too late for a "correction"?
* * *
Update(1314ET): A fresh White House statement has backed the Poland and NATO assessment that the Tuesday Polish border explosion was "most likely the result of a Ukrainian air defense missile that unfortunately landed in Poland."
The statement by National Security Council Spokesperson Adrienne Watson additionally said the US has "full confidence" in the Polish government's ongoing investigation. "We have seen nothing that contradicts President Duda's preliminary assessment that this explosion was most likely the result of a Ukrainian air defense missile that unfortunately landed in Poland," she said.
But like NATO chief Jens Stoltenberg's prior remarks, she still blamed Russia for the episode:
"That said, whatever the final conclusions may be, it is clear that the party ultimately responsible for this tragic incident is Russia, which launched a barrage of missiles on Ukraine specifically intended to target civilian infrastructure. Ukraine had — and has — every right to defend itself."
Meanwhile, former Texas Congressman Ron Paul asks the question, did we almost get lied into WWIII?
Did Ukraine Try To Lie Us Into WWIII? – today on the Liberty Report:https://t.co/DuDCDIlCbg

— Ron Paul (@RonPaul) November 16, 2022
All of these belated admissions that no, it was not a Russian attack, conveniently come well after the US president had seized the 'fog of war' moment yesterday to unveil another massive $37 billion emergency aid package for Ukraine almost simultaneous to the border incident.
So $37.6 billion more from the US taxpayer and counting… at a moment that some apparently have motive to drag Washington and the American people into another major war based on deception.
US funding for war in Ukraine in 9 months:

Mar: $ 13.6 billion
May: $ 40b
Nov: $ 37.7b: Biden's new request

That $ 91.3 billion is 33% more than Russia's *total military spending for the year*

It's *double* the US's average annual expenditure for its own war in Afghanistan

— Glenn Greenwald (@ggreenwald) November 16, 2022
* * *
A mere less than 24 hours ago,…
Continue Reading