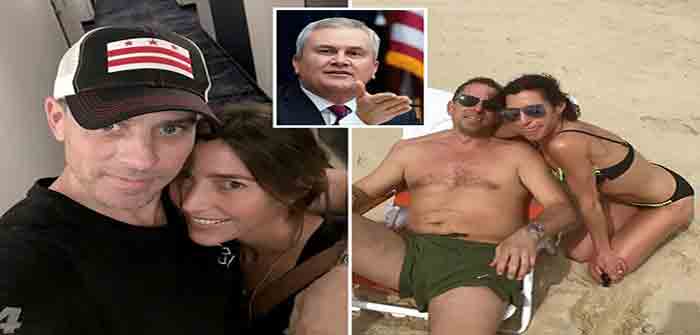 by Steven Nelson at New York Post
House Oversight Committee Chairman James Comer revealed Thursday that subpoenaed bank records indicate President Biden's daughter-in-law Hallie was the previously unknown family recipient of Chinese cash in 2017, The Post can exclusively reveal.
President Biden, who allegedly was the "big guy" mentioned in communications about the same Chinese venture, dined at Hallie Biden's residence last Friday during his regular weekend trip home to Delaware. It's unclear if they discussed the looming bombshell, which Comer (R-Ky.) publicly teased Monday night on Fox News' "Hannity."
The records show Hallie Biden received $35,000 over two transfers in 2017 from Biden family associate John "Rob" Walker after he received $3 million on March 1, 2017, from the Chinese State Energy HK Limited, a firm affiliated with CEFC China Energy.
The first transfer to Hallie from Robinson Walker LLC was for $25,000 on March 20 of that year, Comer wrote in a Thursday morning memo to committee members.
____________________________
WASHINGTON—Today, the House Committee on Oversight and Accountability issued a memorandum revealing new evidence resulting from the investigation into the Biden family's influence peddling and business schemes. Subpoenaed financial records show that from 2015 to 2017, Biden family members – Hunter Biden, James Biden, Hallie Biden, and an unknown "Biden" – and their companies collectively received $1.3 million in payments from accounts related to Rob Walker, a Biden family associate.
Notably, on March 1, 2017, less than two months after Vice President Joe Biden left public office, State Energy HK Limited, a Chinese company, wired $3 million to Rob Walker's company. The next day, the company wired $1,065,000 to a company associated with James Gilliar, another Biden family associate. Afterwards, the Biden family received approximately $1,065,000 in payments over a three-month period in different bank accounts. From the bank records, it appears that the Biden family received approximately one-third of the money obtained from the China wire.
Chairman James Comer (R-Ky.) issued the following statement on this new evidence of the Biden family's suspicious business transactions:
"Democrats described our subpoena as providing nothing more than records for Papa John's and Starbucks, but they failed to mention the records we've received documenting the Biden family's business schemes. Over the course of several years, members of the Biden family and their companies received over $1.3 million in payments from accounts related to their associate, Rob Walker. Most of this money came as a result of a wire from a Chinese energy company and went not only to Hunter and James Biden, but also to Hallie Biden and an unknown 'Biden.' It is unclear what services were provided to obtain this exorbitant amount of money.
"The Oversight Committee is concerned about the national security implications resulting from President Biden's family receiving millions of dollars from foreign nationals. We will continue to follow the money trail and facts to determine if President Biden is compromised by his family's business schemes and if there is a national security threat." 
Read the full memorandum here…
Continue Reading