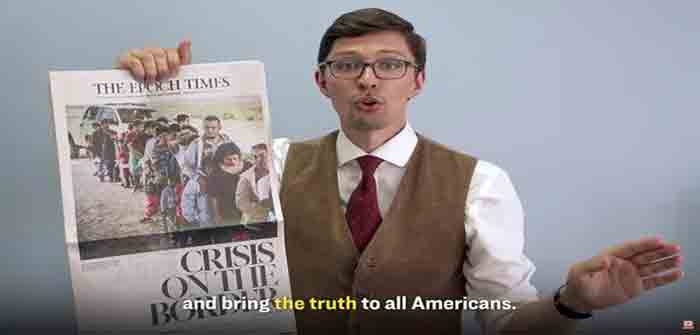 YouTube, the video platform service that is a Google subsidiary, has banned The Epoch Times, a rising, conservative-leaning media outlet, from earning money off its videos.
"YouTube demonetized the Epoch Times and related accounts last week," Stephen Gregory, publisher of The Epoch Times confirmed to Just the News on Tuesday in an email. "This is the latest example of big tech suppression of free speech, a step on the road to communist-style censorship."
A YouTube spokesperson acknowledged Tuesday in an email to Just the News that the company had demonetized the publication's channel and affiliated channels and had suspended them from the YouTube Partner Program (YPP) – over issues related to harmful or sensitive content.
"All channels on YouTube need to comply with our Community Guidelines, and in order to monetize, channels must comply with the YouTube Partner Program policies, which include our Advertiser-Friendly Guidelines," the spokesperson also said. "Channels that repeatedly violate these policies are suspended from our partner program."
The spokesperson noted that channels removed from its partner program are able to appeal the decision or reapply to YPP in 30 days, provided the underlying issues that led to suspension have been addressed to YouTube's liking.
The move by YouTube follows Twitter earlier this month de-platforming former President Trump and some conservative users, and the app Parler being denied web hosting services by Amazon.
Texas Attorney General Ken Paxton on Jan. 13 issued civil investigative demands to Google, Facebook, Twitter, Amazon Web Services, and Apple, asking the companies for their policies and practices regarding content moderation and, more specifically, for information related to Parler, a social media application popular among conservatives that was recently terminated or blocked by Google, Amazon, and Apple.
On Thursday, a federal judge denied…
Continue Reading