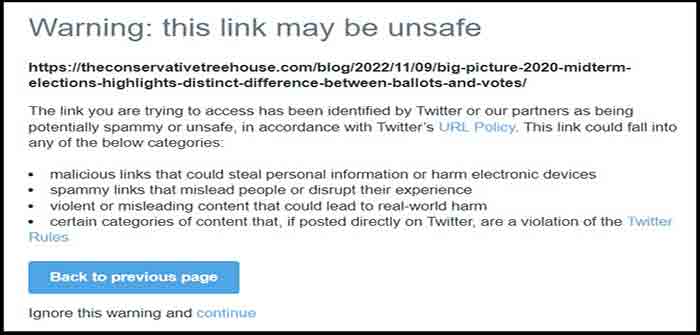 by Sundance at The Conservative Treehouse
I'm going to skip noting that Elon Musk Twitter is essentially unchanged, regarding the relationship between Twitter, the Dept of Homeland Security and the disinformation police, as many keep saying Musk Twitter has not had time to reformat.
That said, five days after our post-election review of the difference between ballots and votes, and within minutes of the controversial Arizona governor contest being announced by DHS media outlets, suddenly any discussion about "Ballots -vs- Votes" is considered a risk to democracy. [LINK}
The need for control is a reaction to fear.
Twitter specifically, and Big Tech writ large, has now placed a warning on the CTH article where we draw attention to the general difference between ballots and votes. The timing of the intervention, as related to the content discussed, is transparent. Sunlight is a great disinfectant and must be controlled at all costs.
In one sense this effort to block discussion is irrelevant,…
Continue Reading