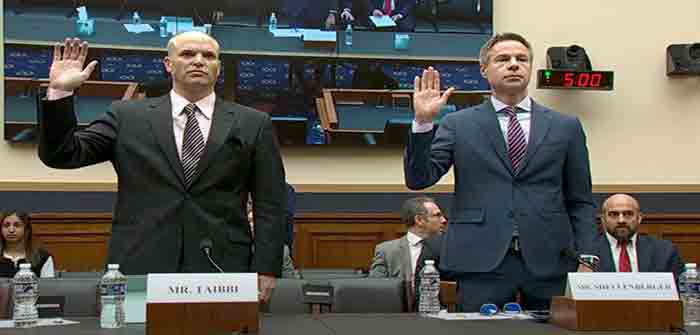 by Margot Cleveland at the Federalist
"It may be possible — if we can take off the tinfoil hat — that there is not a vast conspiracy," Democrat Colin Allred of Texas scoffed at independent journalist Matt Taibbi during Thursday's House Judiciary subcommittee hearing. But while Allred was busy deriding Taibbi and fellow witness, journalist Michael Shellenberger, the public was digesting the latest installment of the "Twitter Files" — which contained yet further proof that the government funds and leads a sprawling Censorship Complex.
Taibbi dropped the Twitter thread about an hour before the House Judiciary's Select Subcommittee on the Weaponization of the Federal Government hearing began. And notwithstanding the breadth and depth of the players revealed in the 17-or-so earlier installments of the "Twitter Files," Thursday's reporting exposed even more government-funded organizations pushing Twitter to censor speech.
But yesterday's thread, titled "The Censorship-Industrial Complex," did more than merely expand the knowledge base of the various actors: It revealed that government-funded organizations sought the censorship of truthful speech by ordinary Americans.
In his prepared testimony for the subcommittee, Shellenberger spoke of the censorship slide he saw in reviewing the internal Twitter communications. "The bar for bringing in military-grade government monitoring and speech-countering techniques has moved from 'countering terrorism' to 'countering extremism' to 'countering simple misinformation.' Otherwise known as being wrong on the internet," Shellenberger testified.
"The government no longer needs the predicate of calling you a terrorist or an extremist to deploy government resources to counter your political activity," Shellenberger continued. "The only predicate it needs is the assertion that the opinion you expressed on social media is wrong."
Being "wrong" isn't even a prerequisite for censorship requests,…
Continue Reading