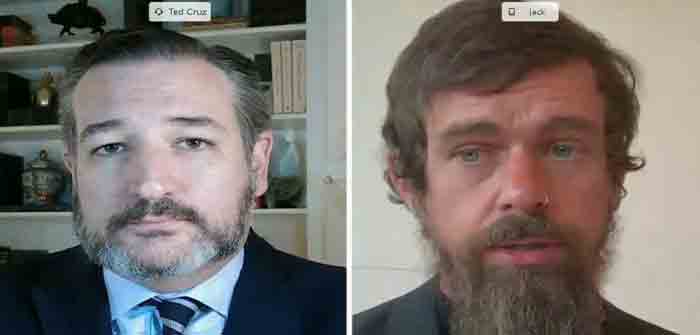 Sen. Ted Cruz teed off on Twitter CEO Jack Dorsey over the social-media giant's censorship of The Post's reporting on Hunter Biden, in a stunning rebuke during Wednesday's Big Tech hearings on Capitol Hill.
"Mr. Dorsey, who the hell elected you and put you in charge of what the media are allowed to report and what the American people are allowed to hear?" Cruz thundered at the social-media mogul. "Why do you persist in behaving as a Democratic super PAC, silencing views to the contrary of your political beliefs?"
Dorsey, Facebook co-founder Mark Zuckerberg and Sundar Pichai, the CEO of Google parent company Alphabet, testified via live feed before the Senate Commerce Committee on topics including election security and preventing the spread of misinformation regarding the coronavirus.
But some Republican members took the opportunity to grill Dorsey and Zuckerberg on their companies' recent suppression of Post reporting on Biden's overseas business dealings and what role his father, Democratic presidential candidate Joe Biden, may have had in that.
Cruz (R-Texas) has led the charge against Dorsey since Twitter unilaterally barred tweets linking to The Post's initial reporting on the bombshell Biden allegations earlier this month, and locked The Post's account, which remains locked more than two weeks later.
Dorsey, who on Wednesday reiterated previous concessions that the initial Post purge was wrong, told Cruz the paper is welcome back on Twitter anytime — on the proviso that it deletes its first Hunter Biden tweets…
Continue Reading