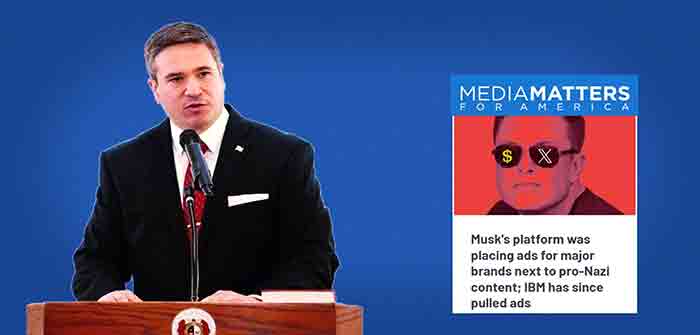 by Katie Daviscourt at The Post Millennial
On Sunday, Republican Missouri Attorney General Andrew Bailey announced that his team is investigating left-leaning news organization Media Matters over allegations of criminal and civil violations.
This comes after Elon Musk announced that X-Corp will be launching a "thermonuclear lawsuit" against the company on claims that Media Matters enacted a "fraudulent attack" on X-Corp and in an attempt to "undermine freedom of speech and mislead advertisers."
The specific allegations that Attorney General Bailey's Office is investigating pertain to recent findings that Media Matters allegedly created fake social media accounts to game the X servers in order to create false impressions for its hit piece on Elon Musk. These allegations went viral after they were shared on X by Human Events' Jack Posobiec.
BREAKING: Media Matters created accounts and gamed the X server to create false impressions for their article

This isn't journalism, this is a hoax pic.twitter.com/vO1HVDBuEo

— Jack Poso 🇺🇸 (@JackPosobiec) November 19, 2023
Attorney General Bailey responded to a comment posted by billionaire Elon Musk on X following a plea to US conservative attorneys general to investigate the organization and said: "My team is looking into this matter."
Musk had responded to president of America First Legal Stephen Miller,…
Continue Reading