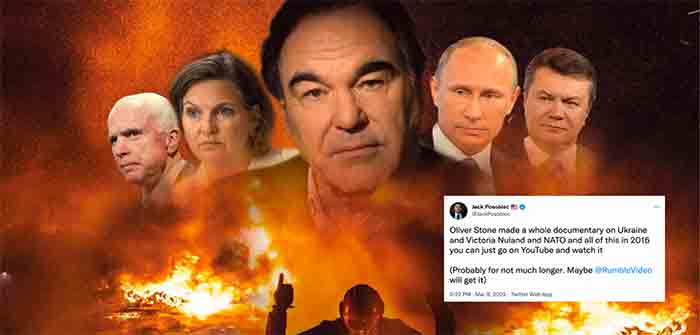 by Roberto Wakerell-Cruz at The Post Millennial
Video platform Rumble now has the entirety of Igor Lopatonok and Oliver Stone's critically acclaimed documentary "Ukraine on Fire", following the decision by YouTube to delete the film.
The site announced that they uploaded the film due to their belief that "the public should decide what it sees, not Google execs."
"We're proud to announce the producers uploaded the film to Rumble, enabling anyone who wishes to view it," a tweet from Rumble reads.
"Ukraine on Fire" provides a "historical perspective for the deep divisions in the region which lead to the 2004 Orange Revolution, the 2014 uprisings, and the violent overthrow of democratically elected Yanukovych. Covered by Western media as a people's revolution, it was in fact a coup d'état scripted and staged by nationalist groups and the U.S. State Department," the controversial film's description reads..
Human Events Daily host and journalist Jack Posobiec predicted the censorship as well as Rumble coming to the film's rescue just one day earlier…
Continue Reading