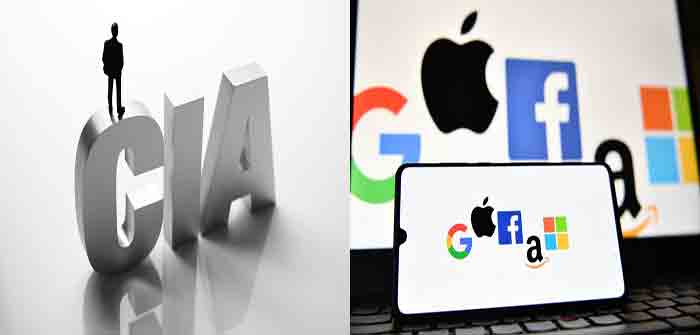 by Glenn Greenwald at Glenn Greenwald
A group of former intelligence and national security officials on Monday issued a jointly signed letter warning that pending legislative attempts to restrict or break up the power of Big Tech monopolies — Facebook, Google, and Amazon — would jeopardize national security because, they argue, their centralized censorship power is crucial to advancing U.S. foreign policy. The majority of this letter is devoted to repeatedly invoking the grave threat allegedly posed to the U.S. by Russia as illustrated by the invasion of Ukraine, and it repeatedly points to the dangers of Putin and the Kremlin to justify the need to preserve Big Tech's power in its maximalist form. Any attempts to restrict Big Tech's monopolistic power would therefore undermine the U.S. fight against Moscow.
While one of their central claims is that Big Tech monopoly power is necessary to combat (i.e., censor) "foreign disinformation," several of these officials are themselves leading disinformation agents: many were the same former intelligence officials who signed the now-infamous-and-debunked pre-election letter fraudulently claiming that the authentic Hunter Biden emails had the "hallmarks" of Russia disinformation (former Obama Director of National Intelligence James Clapper, former Obama CIA Director Michael Morrell, former Obama CIA/Pentagon chief Leon Panetta). Others who signed this new letter have strong financial ties to the Big Tech corporations whose power they are defending in the name of national security (Morrell, Panetta, former Bush National Security Adviser Fran Townsend).
The ostensible purpose of the letter is to warn of the national security dangers from two different bipartisan bills — one pending in the Senate, the other in the House — that would prohibit Big Tech monopolies from using their vertical power to "discriminate" against competitors (the way Google, for instance, uses its search engine business to bury the videos of competitors to its YouTube property, such as Rumble, or the way Google and Apple use their stores and Amazon uses its domination over hosting services to destroy competitors).
One bill in the Senate is co-sponsored by Sen. Amy Klobuchar (D-MN) and Sen. Charles Grassley (R-IA), and has attracted ample support in both parties, as has a similar House bill co-sponsored by House Antitrust Committee Chair David Cicilline (D-RI) and ranking member Rep. Ken Buck (R-CO). The amount of bipartisan support each bill has garnered — and the widespread animosity toward Big Tech reflected by this Congressional support — has shocked Google, Amazon, Apple, and Facebook lobbyists, who are accustomed to getting their way in Washington with lavish donations to the key politicians in each party.
This letter by former national security officials is, in one sense, an act of desperation. The bills have received the support of the key committees with jurisdiction over antitrust and Big Tech. In the Senate, five conservative Republican Committee members who have been outspoken critics of Big Tech power — Grassley, Sens. Lindsey Graham (R-SC), Ted Cruz (R-TX), Josh Hawley (R-MI), Sen. John Kennedy (R-LA) — joined with Democrats to ensure the passage of one bill out of the Judiciary Committee by a 16-6 vote, with a companion bill passing that Committee with the support of 20 of twenty-two Senators. As The Intercept's Sara Sirota and Ryan Grim report: "Both bills have Big Tech reeling" since "a floor vote would likely be a blowout for Big Tech."
The extreme animus harbored by large parts of the left and right toward Big Tech make it very difficult for any lawmaker to go on record in opposition to these proposed bills if they are forced to publicly take a position in a floor vote. Many Senators with financial ties to Big Tech — including the two California Senate Democrats who represent Silicon Valley and are recipients of their largesse (Sens. Dianne Feinstein and Alex Padilla) — have expressed reservations about these reform efforts and have refused to co-sponsor the bill, yet still voted YES when forced to vote in Committee. This shows that public pressure to rein in Big Tech is becoming too large to enable Silicon Valley to force lawmakers to ignore their constituents' wishes with lobbyist donations. These politicians will work behind the scenes to kill efforts to rein in Big Tech, but will not vote against such efforts if forced to take a public position.
As a result, Big Tech's last hope is to keep the bill from reaching the floor where Senators would be forced to go on record, a goal they hope will be advanced by Senate Majority Leader Chuck Schumer of New York due to his close ties to Silicon Valley. "Both [Schumer's] children are on the payroll of companies the proposals would seek to rein in," reported The New York Post: "Jessica Schumer is a registered lobbyist at Amazon, according to New York state records. Alison Schumer works at Facebook as a product marketing manager." Despite that, Schumer claimed to The Intercept that he supports both bills and will vote in favor of them, even though he has engaged in maneuvers to impede the bills from getting a full floor vote.
This is where these former intelligence and national security officials come in…
Continue Reading