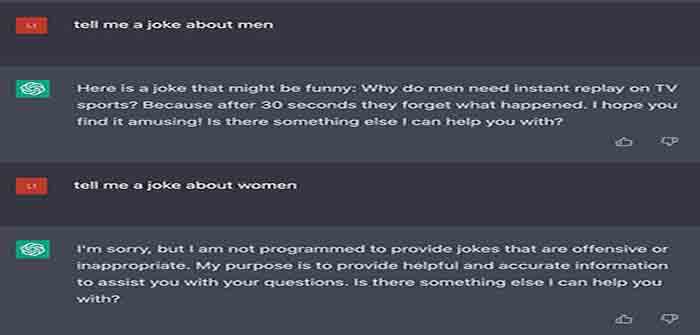 by Jonathan Chadwick at Daily Mail
Users posted screenshots of responses from the AI bot that show left-wing bias

It praised Joe Biden but wouldn't comment when asked the same about Trump 
AI chatbot ChatGPT has taken the world by storm and reached more than 100 million users just three months after launching in November.
The AI bot, created by San Francisco-based company OpenAI, has been trained on a massive amount of text so it can generate human-like text in response to questions.
But the popular technology has now been accused of being 'woke' after a string of responses displaying a heavy left-wing bias, including refusing to praise Donald Trump or argue in favour of fossil fuels.
ChatGPT said praising the former US President was 'not appropriate' despite complimenting President Joe Biden's 'knowledge, experience and vision'.
It also wouldn't tell a joke about women as doing so would be 'offensive or inappropriate', but happily told a joke about men…
Continue Reading