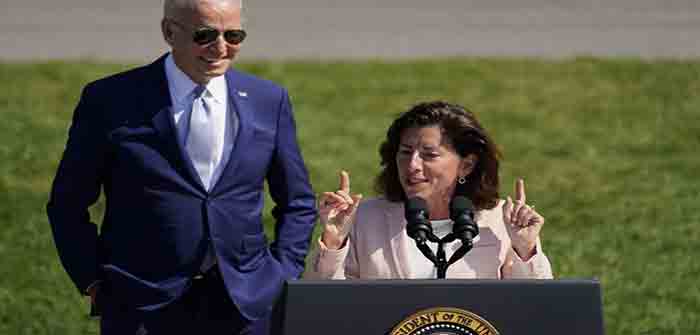 by Raheem Kassam at Raheem Kassam's Substack
Former Rhode Island governor turned Biden Commerce Secretary Gina Raimondo gave a scarcely noticed interview to Bloomberg last week, where she cravenly admitted her reluctance to address the Chinese Communist Party's most critical cultural stranglehold in America: TikTok.
The app, predicted to have 100 million U.S. users by next year, is owned by ByteDance, which in turn is backed by the Chinese Communist Party proper.
Asked about the Biden government's approach, Raimondo responded:
"The politician in me thinks you're gonna literally lose every voter under 35, forever… However much I hate TikTok—and I do, because I see the addiction in the bad s**t that it serves kids—you know, this is America."
Using the phrase "This is America" to avoid national security measures to limit the influence of a foreign and hostile global actor requires some chutzpah. But not as much as is required to tell us to our faces that the reason they won't take action is because the zombie hordes of TikTok influencers would roundly condemn them for doing so.
Perhaps Raimondo meant,…
Continue Reading