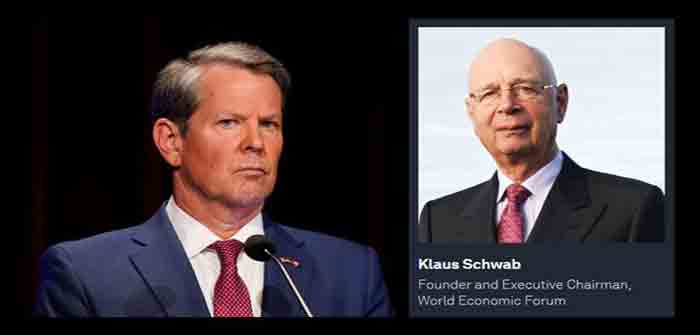 by William Quinn at The Georgia Record
When the Davos meeting released its list of 2023 attendees, many were surprised to find that it included Georgia's Governor, Brian Kemp.    Other notable figures among the invite-only group include Michigan Governor, Gretchen Whitmer;  former Senator, John Kerry; Senator Joe Manchin; former UK Prime Minster, Tony Blair; FBI Director Christopher Wray;  Arizona Senator Krysten Sinema, CEOs of Amazon, Blackrock and Pfizer as well as  executives of the Gates Foundation, Soros Organization and New York Times publisher.
Davos is the annual meeting of the World Economic Forum, held each year in Davos, Switzerland for invitees from around the globe to meet (in most cases out of the public eye) and present their proposals and plans for world issues.
The World Economic Forum was founded in 1971 by Klaus Schwab who remains Chairman of the organization and who is often associated with the concept of a New World Order.
What brings Brian Kemp to Switzerland to rub shoulders with the global elite from government, big pharma and finance?   Perhaps a hint was seen earlier in 2022 when Georgia's Secretary of State, Brad Raffensperger announced that he was awarding management of Georgia's voter registration system to a subsidiary of Salesforce.com.  Marc Benioff is founder and co-chairman of Salesforce and is also a member of the Board of Trustees of the World Economic Forum.
Davos is scheduled…
Continue Reading