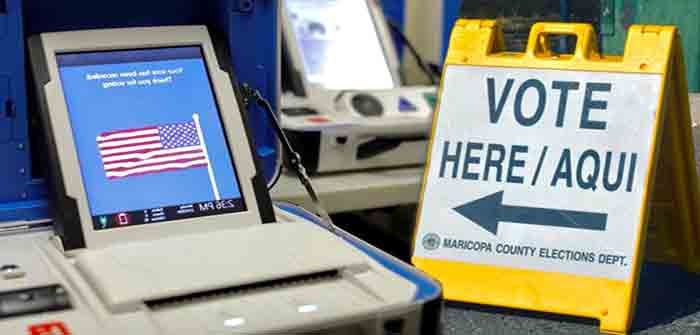 by Kari Donovan at Republic Brief
According to a new whistleblower lawsuit against the election data firm, Konnech Inc. and its founder Eugene Yu Konnech transferred American poll workers' data to China, and those allegations raise important questions about the FBI's involvement in the investigation of Konnech and the Los Angeles County district attorney's office's decision to drop its criminal case against Yu.
A complaint was filed in December in Michigan state court under oath, by a former employee of Konnech, Grant Bradley,  who provided an insider's view of the operations of the election data firm that showed "election logistic software" to 32 clients in North America, using "developers, designers and coders" who "are all Chinese nationals based out of Wuhan, China."
Bradley claims in the new complaint that he "worked with the Chinese programmers on a daily basis," and that he "witnessed customer's data (specifically poll watcher information) being made accessible to foreign nationals from China." When he raised concerns about foreign nationals having access to the data, Bradley alleges his supervisors said that "everyone [other software companies like Microsoft and Apple] was doing it."
The update reflects a change in Bradley's claims,of September 2022, when he said he "did not know the full extent of the information provided to the Chinese nationals."
See the document: 620894361-22-12-22-Verified-Complaint-1
Margot Cleveland reported on the update for the Federalist:
Konnech's lawsuit against True the Vote followed a series of podcasts the organization's founder, Catherine Engelbrecht, and a former board member who works closely with her, Gregg Phillips, participated in starting in August of 2022. During those podcasts, the duo claimed they had been assisting the FBI to expose Konnech's purported use of a server in China to store election workers' personal identifying information. In one podcast, they announced they were working with people "to bring this work to, to a grand jury for the first time," and that they have the "support of, of a major prosecutorial office in the United States … and [that] they are moving this along."
After True the Vote began making allegations against Konnech, Bradley alleged in his complaint that he "began to investigate the extent of the information provided to the Chinese programmers by Defendants Yu and Konnech." Bradley claimed he then "immediately set out to find alternative work," but had been unable to find a new job before police raided Konnech on Oct. 4, 2022.
Following Yu's arrest,…
Continue Reading