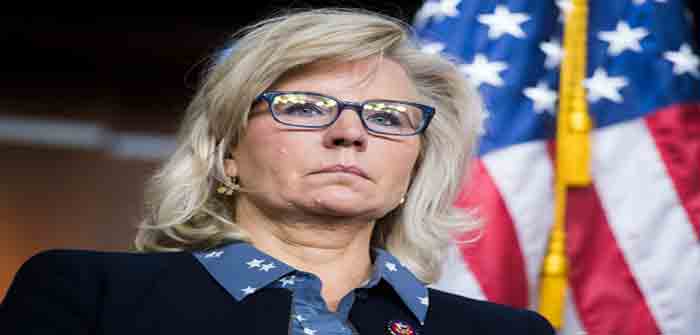 by Kerry Picket
As another Senate impeachment trial of former President Donald Trump looms on the horizon, House Republicans stepped up their pressure campaign against GOP Conference Chairwoman Liz Cheney to resign from her leadership post.
Florida Republican Rep. Matt Gaetz plans to rally with local Republicans in Cheyenne on Thursday to urge the Wyoming Republican congresswoman to step down as a result of her voting in favor of Trump's second impeachment and accusing him of "betrayal" to the office of the presidency.
In a tweet promoting the event, Gaetz said, "I do not want her job. I unequivocally am not seeking a position in House Leadership. I also know Wyoming can do better."
A Cheney spokesperson shot back at Gaetz, telling the Washington Examiner, "Rep. Gaetz can leave his beauty bag at home. In Wyoming, the men don't wear make-up."
Cheney, who is already facing a primary challenger, was excoriated by the Wyoming Republican Party, noting Trump was denied due process by the representative and that the state voted for the reelection of Trump by a margin of 70% to 30%.
Cheney took issue with Trump's statements long before the most recent impeachment. Though she did not support the first impeachment effort, she defended Lt. Col. Alexander Vindman and former U.S. Ambassador to Ukraine Marie Yovanovitch, two witnesses in Trump's first impeachment, after he criticized them on Twitter.
House Freedom Caucus Chairman Andy Biggs, one of the lawmakers responsible for kicking off the petition circulating the conference demanding she resign, told Fox News on Saturday that Cheney's statement related to Trump's impeachment is more problematic than her vote for the measure.
"Well, it isn't necessarily because she voted for impeachment. I didn't like that. I didn't support that, obviously. But it's the way she did what she did. Besides that, she went out, and she is representing the entire conference, whether she says she is or isn't. And she puts out a statement, saying that what this president did is maybe one of the most heinous things in the history of the U.S. presidency," Biggs said.
He added, "Her words were used over and over again when the Democrats were making their speeches on the floor of the House. And they will be used again when the Senate opens up another bogus trial in the Senate. That is what the problem is."
However, Cheney defended her statement during an interview…
Continue Reading