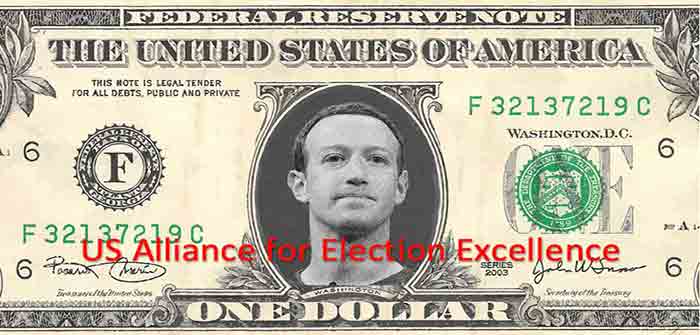 by Sarah Lee and Hayden Ludwig at Capital Research
Private financing of government election offices under the guise of COVID-19 relief skewed voter turnout in the 2020 election and may have tipped the presidential election to Joe Biden.
The chief culprit was Facebook CEO Mark Zuckerberg, who poured $350 million into one sleepy nonprofit, the Center for Technology and Civic Life (CTCL). CTCL then distributed grants to hundreds of county and city elections officials in 47 states and the District of Columbia.
Despite its claims that the grants were strictly for COVID-19 relief, not partisan advantage, the data show otherwise. CRC research into grants distributed in key states—Arizona and Nevada, Texas, Michigan and Wisconsin, Virginia, North Carolina, Pennsylvania, and Georgia—has documented their partisan effects. We have also catalogued our major findings at InfluenceWatch.
Summer 2021: The flood of "Zuck bucks" caught the attention of House Republicans, who sent CTCL a letter on June 21, 2021, demanding the group explain where its $350 million in COVID-19 "relief" funds went—since less than one percent of those funds were spent on personal protective equipment. They have also called on CTCL to publish its Form 990 for public review.
January 28, 2022: We've updated our original 2021 findings in the 9 states CRC analyzed using CTCL's latest disclosures here. A list of all CTCL grants nationwide is available here with limited analysis. For a list of common questions and answers about CTCL's 2020 grants, go here.
As detailed below, at least a dozen state legislatures have responded to these revelations with bills to protect free and fair elections by prohibiting or restricting private funding of government election offices. Note that not all of the states listed below banned Zuck bucks; some only regulated or restricted private funding for elections offices. Vetoes and failed bills are also noted.
As of April 2022, 18 states have banned or restricted the use of private funds for election offices and 6 governors—all Democrats—have vetoed potential bans. Wisconsin Gov. Tony Evers (D) has vetoed 2 Zuck buck bans; Kansas's legislature overrode its Democratic governor's veto. In addition, 1 county (Walworth, Wisconsin) has banned Zuck bucks.
Many states are currently considering bans (see "in-progress").
Is your state on this list?…
Continue Reading