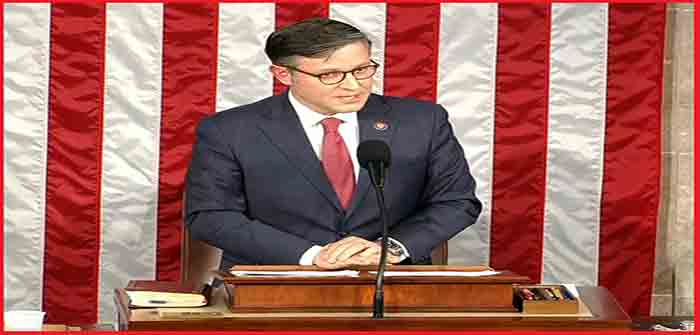 by Sundance at Conservative Treehouse
Louisiana Republican Mike Johnson won the vote and has become Speaker of the House of Representatives.  This is a huge shift in momentum for the MAGA base, for common sense pragmatic voters, and for the overall direction of our national body politic.
Speaker Johnson delivered a humble, gracious and fantastic speech after the vote.
WATCH:
WASHINGTON DC – The fourth-term Louisianan sailed to victory with 220 votes, more than the 215 he needed to be elected speaker on the House floor. The final vote on the first ballot was 220-209.

Johnson's win marked a stunning turnaround after more than three weeks of chaotic limbo in the House following the ouster of former Speaker Kevin McCarthy and the demise of three other failed speaker candidates. He did not lose a single GOP vote from lawmakers who were present; Rep. Derrick Van Orden (R-Wis.) is in Israel and did not attend the balloting.

Before his election as speaker, Johnson served as vice chair of the GOP conference — but was seen by hard-line conservatives as somewhat outside the mainstream party leadership mentality that some of them faulted McCarthy for embodying. He was first elected in 2016 after practicing constitutional law for two decades.

"You know, sometimes new is better," House Rules Committee Chair Tom Cole (R-Okla.) said Wednesday. "I think he starts off with trust. And he starts off with an understanding that he's going to have to move quickly and we don't have time for a lot of fun and games here." (read more)
______________
Now, for a real treat watch this interview with Matt Gaetz on the War Room following the vote for Johnson –
Continue Reading