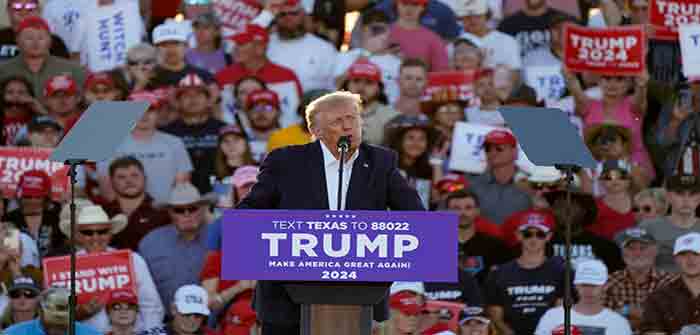 by Darren Beattie at Revolver News
President Trump rolled into Waco, Texas where he put on quite a show for a huge crowd that started lining up at dawn to see him.
There's no denying it, President Trump still has that magic touch.
The pre-dawn line to see President @realDonaldTrump in Waco, TX! Tune in LIVE at 6pm ET/5pm CT for the first rally of the 2024 campaign! pic.twitter.com/DMUSFho47W

— Jason Miller (@JasonMillerinDC) March 25, 2023
The crowds just kept growing as the day went on.
Daniel showing how insanely packed it's been hours before the event #TrumpRally pic.twitter.com/NhYTNvycJc

— MAGS (@TAftermath2020) March 25, 2023
Kari Lake put it best when she said the MAGA movement is just getting stronger.
It's 8am in Waco, and MASSIVE lines are already forming for Pres. Donald Trump's Texas rally.

This is shaping up to be huge.@OANN pic.twitter.com/A2aNwSke1p

— Daniel Baldwin (@baldwin_daniel_) March 25, 2023
And without a doubt, this will be one of the biggest flags you ever see.
A Trump supporter wearing a 45 shirt waived a huge U.S. flag with an image of former president Donald Trump as the National Anthem played outside the Waco Regional Airport on Saturday, March 25. pic.twitter.com/anCEonQLyC

— KWTX News 10 (@kwtx) March 25, 2023
As the crowds filled in eager to see President Trump, Georgia Congresswoman Marjorie Taylor Green reiterated that President Trump was the undisputed leader of the Republican Party…
Continue Reading