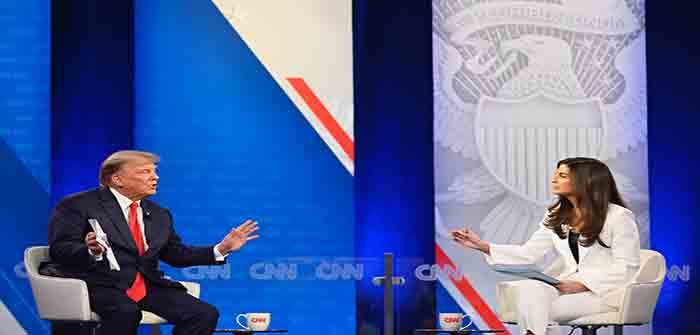 by Darren Beattie at Revolver
President Trump was in rare form on the CNN Town Hall tonight in New Hampshire, hosted by Kaitlan Collins (formerly of the Daily Caller).
The crowd was very enthusiastic.
Standing ovation for Donald Trump at the CNN Town Hall

— Benny Johnson (@bennyjohnson) May 11, 2023
The 45th president said he would pardon many January 6th rioters.
CNN Crowd Cheers as Trump Vows to Pardon Many People Arrested on January 6

"You have two standards of justice in this country … And then what they've done to these people, they've persecuted these people. And yeah, my answer is, if I get in … it will be a large portion of… pic.twitter.com/E2TniiiKMn

— The Vigilant Fox 🦊 (@VigilantFox) May 11, 2023
President Trump explained that you can't get a fair trial in Washington, D.C. or New York City. The New Hampshire crowd went wild:…
Continue Reading