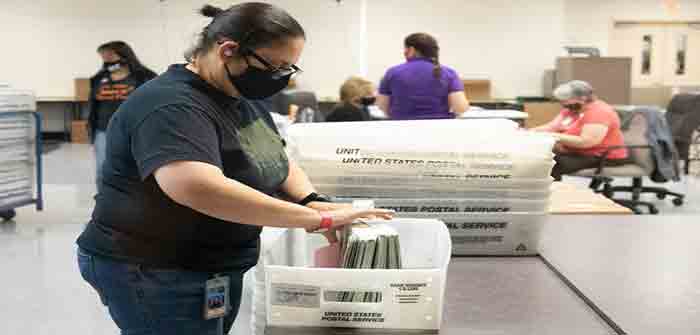 Maricopa County GOP chairwoman Linda Brickman on Nov. 30 testified before members of the Arizona State Legislature that she personally observed votes for President Donald Trump being tallied as votes for Democratic presidential nominee Joe Biden when input into Dominion machines.
Brickman, the GOP head of one of the country's largest counties and a veteran county elections worker, submitted her testimony in a sworn affidavit under penalty of perjury. She testified that she and her Democratic partner witnessed "more than once" Trump votes default and shift to Biden when they were entering votes into Dominion machines from ballots that couldn't be read by machines.
She alleged that she was later threatened by election supervisors at the Maricopa County Tabulation and Election Center (MCTEC) for speaking out about what she had witnessed.
"I observed, with my Democratic partner, the preparation of a new ballot, since the original one was soiled, or wouldn't go through the tabulators. I read her a Trump Republican ballot, and as soon as she entered it into the system, the ballot defaulted on the screen to a Biden Democratic ballot," Brickman told GOP Arizona State legislators on Monday.
She remarked that when she reported the issue to election supervisors, others in the room also commented that they had "witnessed the same manipulation."
"We were never told what, if any corrective action was taken," Brickman continued. "All I know is the next day, I was called outside the room that I was working in for signature verification by a supervisor who said, 'I understand you caused some problems this week and you thought our machines were not working correctly.'
"I was told at that point in time that I could not discuss anything or talk about what was going on.
"Many people were threatened," Brickman told the hearing. "They were told that their voices would be suppressed, they would have to leave the room and not work there again. I'm here because I think this is our duty to speak the truth."…
Continue Reading