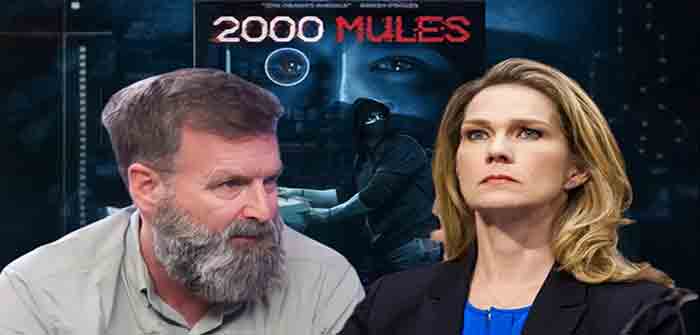 by Nick Moseder at
This morning, True The Vote's co-founders Greg Phillips and Catherine Englebrecht were arrested and taken into custody by United States Marshals after judge Kenneth Hoyt determined that True The Vote had disobeyed a Temporary Restraining Order. The arrest of Gregg and Catherine is obviously very shocking, especially for people who have not been closely following this defamation case. So, in an effort to inform you, I've done my due diligence and read everything that there is to read on the court docket.
If you would prefer to watch my VIDEO summary of this matter, I did a Live Show on Rumble…
Click the link below to watch, and don't forget to SUBSCRIBE!
True The Vote Thrown In Jail For Not Doxxing Data Source (rumble.com)
The rest of this article will illustrate the notes that I have taken from numerous court filings submitted by both Konnech and True The Vote. If you would like to read the court docket yourself, please do so at Konnech Inc. v. True The Vote Inc., 4:22-cv-03096 – CourtListener.com
---
In short summary, Gregg Phillips declined to identify the third man present in the Dallas hotel room where Konnech's data was supposedly accessed back in January 2021. Gregg stated that he believed disclosing the identity of his source would be a violation of federal law, since he/she was a confidential informant for the FBI, and that this matter was part of an ongoing FBI investigation.
Now, before we discuss the details that led to the arrest of Catherine and Gregg, keep in mind that less than a month after Konnech's defamation case was filed, Eugene Yu (the CEO of Konnech) was arrrested for apparently committing the exact crimes that True The Vote had alleged that he committed. Despite this fact, Gregg and Catherine are now in jail while Eugene Yu is out on bond staying in a hotel room, ordering pizza and watching Netflix…
KONNECH FILES DEFAMATION SUIT AGAINST TRUE THE VOTE
In their original complaint, Konnech claimed that True The Vote had spread baseless conspiracies that have damaged their company's reputation and threatened the safety of their employees. They also claimed that Gregg Phillips obtained data illegally from Konnech's protected computers.
KONNECH'S MOTION FOR A TEMPORARY RESTRAINING ORDER
The terms of the TRO were as follows.
(1) To prevent TTV from accessing or attempting to access Konnech's protected computers;
(2) to return to Konnech all property and data obtained from Konnech's protected computers
(3) To prevent TTV from using, disclosing, or exploiting the property and data downloaded
(4) To preserve, and not to delete, destroy, conceal or otherwise alter, any files or other data obtained
(5) To identify each individual and/or organization involved in accessing Konnech's protected computers;
(6) Force Defendants to confidentially disclose to Konnech how, when, and by whom its servers were accessed without authority so that additional necessary security measures can be implemented by Konnech to maintain the integrity of the data therein in light of the upcoming midterm elections; and
(7) ordering Defendants to identify all persons and/or entities, in Defendants' knowledge, who have had possession, custody or control of any information or data.
JUDGE HOYT GRANTS KONNECH'S TEMPORARY RESTRAINING ORDER
Continue Reading