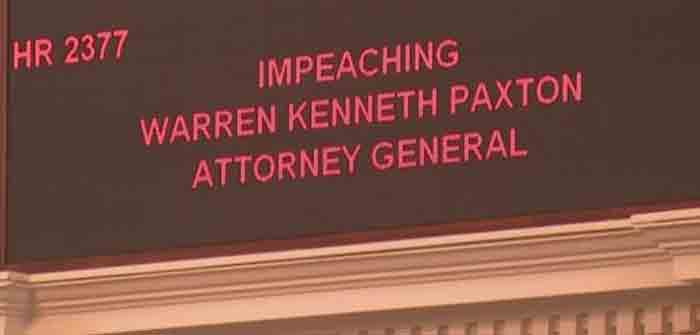 by Wendi Strauch Mahoney at Uncover DC
On Tuesday, the Texas Senate rejected all 16 pretrial motions to dismiss the articles of impeachment against Attorney General Ken Paxton. The Senate voted two-to-one against every motion to dismiss but one," according to Texas Tribune reporting. Tuesday was the first day of efforts to remove the wildly popular AG. In the Senate trial, members of the House are acting as prosecutors, and the 31 senators are acting as jury. Now that dismissal has been taken off the table, the trial could go on for weeks, promising plenty of political posturing and theatre.
In May, the Texas House voted overwhelmingly 
121-23
 for Paxton's impeachment. It is the first time a Texas AG has been impeached. As a result, Paxton has been suspended since May pending the Senate trial, which began Tuesday, Sept. 5, 2023. Many in the conservative grassroots community call Paxton's impeachment and potential removal a political witchhunt.
Conservative grassroots activist group called the Texas True Project points out that the Texas Code clearly lays out the argument for an immediate dismissal of all articles of impeachment. Subchapter D, Sec. 665.081. of Title 6, Chapter 665 states, "(a) An officer in this state may not be removed from office for an act the officer may have committed before the officer's election to office." The Texas True Project contends Paxton's removal "would overturn the will of the voters who were aware of all allegations prior to election days and still elected AG Paxton with considerable margins in both the primary runoff and the general election."
Activists from the Texas True Project say Paxton has gotten a raw deal with his impeachment. An article from their website explains Paxton's impeachment "reeks of political revenge" because voters "overwhelmingly want to keep Ken Paxton at the helm of the Attorney General's Office. The prudent judicial process was not followed in the investigation leading up to the impeachment vote. The House Committee on General Investigation met in secret without the knowledge of the rest of the members of the House and without public access."
The Texas True Project column reveals that the investigation is…
Continue Reading