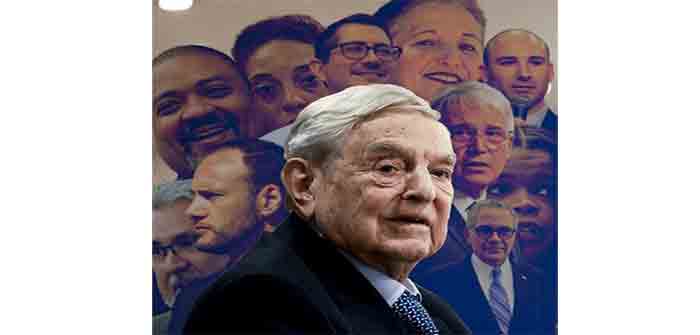 by Crab Man @crabcrawler1 at Twitter
Over the past few years we've noted with increasing frequency that billionaire George Soros has funded or supported far-left political candidates for office around the United States, particularly District Attorneys whose soft-on-crime policies have led to historic crime waves in major cities across the country.
It goes far beyond what we've reported, however.
Twitter researcher 'crabcrawler' (@crabcrawler1) has assembled perhaps the most comprehensive look at Soros-funded DAs, and how their absolute miscarriages of justice led to a crisis of confidence in the US legal system.
In an impressive Twitter thread that's too lengthy to feature in its entirety (one can click on any of the tweets to dive in), crabcrawler illustrates how Soros DAs were supremely incompetent while operating under the guise of providing "reforms" that did nothing but create chaos.
Examining the impacts of the legal leadership of the people Soros has funded is important because it has been a LONG long time in the making. He announced his plans all the back PRE-TRUMP era in August 2016. https://t.co/PTGve4bAlk pic.twitter.com/hXDKiABESA

— crabcrawler (@crabcrawler1) June 17, 2022
Let's start with something easy. George Gascon. Los Angeles DA. https://t.co/OO8sp3ge6o

> Soros funded: https://t.co/jVwcsAK9bx
> Garbage at his job https://t.co/mAPc6A5X04 pic.twitter.com/5fAyJ5Cewz

— crabcrawler (@crabcrawler1) June 17, 2022
It looks something like this. https://t.co/dOcQgcNbFL

— crabcrawler (@crabcrawler1) June 17, 2022
So imagine this sort of backroom BS but like, a billion times over. That's the power of the people that George Soros is putting into attorney offices around the USA. pic.twitter.com/2eFQwI4Ihu

— crabcrawler (@crabcrawler1) June 17, 2022
You see this very obvious hit and run incident?…
Continue Reading