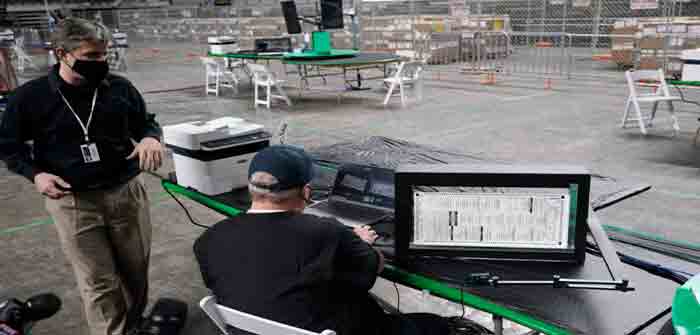 by Joe Hoft at The Gateway Pundit
There is something very troubling in that almost all of the nonprofit players in this Democrat efforts to stop the Maricopa County, Arizona audit have ties to an entity no one has ever heard of, the National Task Force on Election Crises. This group appears to be chaired by none other than James Baker, Former FBI General Counsel to the disgraced FBI Director James Comey.
Baker describes himself as " Director of National Security and Cybersecurity, R Street Institute; Former FBI General Counsel."
The mission of the task force is:
The mission of the nonpartisan National Task Force on Election Crises is to ensure a free and fair 2020 general election by recommending responses to a range of potential election crises.
There are no listed members from the Protect Democracy Project on the Task Force simply because:
"The Task Force was convened by Protect Democracy, a nonpartisan nonprofit organization. Protect Democracy's staff supports the work of the Task Force, and in doing so has drawn on assistance from Jenner & Block, the Institute for Constitutional Advocacy and Protection at Georgetown Law, the Democracy & Rule of Law Clinic at Harvard Law School, and the William & Mary Election Law Society."
J. Christian Adams had this to say about this Task Force in an April 30, 2020 article in PJMedia:
One Potemkin outfit is the self-styled National Task Force on Election Crises. In reality, the group is the usual collection of far-left race activists, liberal law professors, vendor grifters sprinkled in with one or two non-crazies to give the organization a whiff of not-entirely-nuts. It is designed to appear bipartisan but in action, it is the opposite…

…Not only does this largely leftist task force represent phony bipartisanship, but it also uses that misleading brand to place hit-and-run pieces in conservative media.
Go ahead have a look at the membership list of this ultra-secretive, covert operation, a quiet little "Task Force" hidden deep within the operations of a 501(c)(3) charitable, tax-exempt, "nonpartisan" nonprofit called the Protect Democracy Project.
This National Task Force on Election Integrity is all over the left-wing efforts to stop the audit in Maricopa County currently going on.
Secretary of State Katie Hobbs' three observers reported recently according to UncoverDC, are:…
Continue Reading