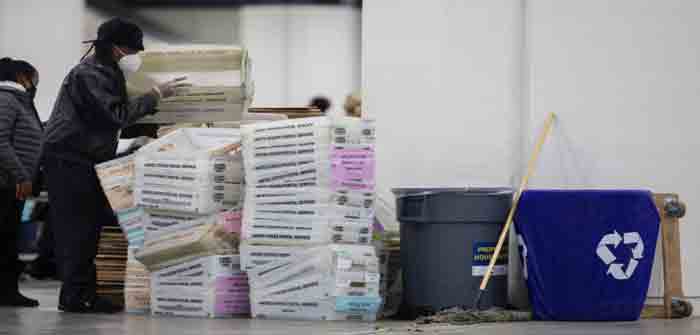 Tens of thousands of unsealed, unsecured ballots—all cast for Democrats—arrived in vehicles with out-of-state license plates in Michigan's Wayne County at 4:30 a.m. on the morning after Election Day, according to a lawsuit filed on Nov. 9.
"At approximately 4:30 a.m., tens of thousands of ballots were brought in and placed on eight long tables. Unlike the other ballots, these boxes were brought in from the rear of the room," a sworn witness affidavit signed by Andrew Sitto, a poll challenger, states. "The same procedure was performed on the ballots that arrived at approximately 4:30 a.m., but I specifically noticed that every ballot I observed was cast for Joe Biden."
"I heard other challengers say that several vehicles with out-of-state license plates pulled up to the TCF Center a little before 4:30 a.m. and unloaded boxes of ballots," Sitto testified.
Sitto's witness statement is one of six cited in a lawsuit (pdf) filed in Michigan on Monday by the Great Lakes Justice Center. The lawsuit alleges that poll workers were instructed to ignore signature mismatches, backdate ballots that arrived late, and push through ballots despite questions about their validity.
Sitto said the election official subsequently blocked the windows of the room he was in with cardboard and refused to let him reenter after he left for a break.
According to another sworn affidavit, the names on the ballots that arrived in the boxes did not appear on either the qualified voter file (QVF) or the supplemental lists for voters who registered shortly before Election Day.
"I saw the computer operators at several counting boards manually adding the names and addresses of these thousands of ballots to the QVF system," Robert Cushman, a poll challenged in Detroit, said in a sworn affidavit. "When I asked what the possible justification was to counting ballots from unknown, unverified 'persons,' I was told by election supervisors that the Wayne County Clerk's Office had 'checked them out.'"
Cushman challenged the process of counting those votes and noted that the poll workers entered the birthdays for each of the purported voters as 1/1/1900.
"When I asked about this impossibility of each ballot having the same birthday occurring in 1900, I was told that was the instruction that came down from the Wayne County Clerk's office," Cushman said. "I was surprised and disappointed at the preponderance of dishonesty, irregularities, and fraudulent tactics at the November 3, 2020 election at the TCF Center."…
Continue Reading