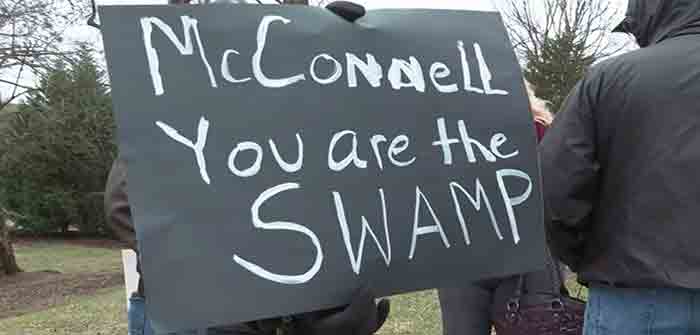 by Shawn Fleetwood at The Federalist
If Republican voters had any lingering doubts about whether their party deserved to lose the Senate in the 2022 midterm elections, the Senate GOP just gave them a whole host of reasons to reaffirm such suspicions. In a less than 24-hour period, Republican senators took a series of actions that ran contrary to the wishes of their base, from reelecting Kentucky Sen. Mitch McConnell as leader of the Senate GOP to trampling on traditional marriage.
In a vote held behind closed doors on Wednesday, McConnell reportedly secured the votes of 37 Republican senators to maintain his position as party leader. Sen. Rick Scott of Florida, who launched a last-minute bid to unseat McConnell, received only 10 votes.
While a full breakdown of the vote has not yet been released, Texas Sen. Ted Cruz and several of his GOP colleagues motioned for the party's leadership vote to be delayed until after Georgia's Dec. 6 Senate runoff between Democrat incumbent Raphael Warnock and Republican candidate Herschel Walker. The motion ultimately failed, with 32 rejecting the proposal and 16 supporting it.
Following the vote, McConnell giddily ran to the press to proclaim to Republican voters that he's "not going anywhere," after indirectly bashing grassroots GOP Senate candidates with the "candidate quality" talking point the day before.
"We learned some lessons about this [election cycle] and I think the lesson is pretty clear: Senate races are different. Candidate quality — you recall I said in August — is important," he said Tuesday.
McConnell's Midterm Meddling…
Continue Reading