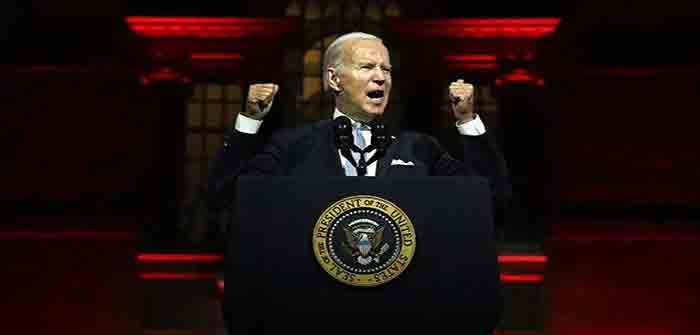 by Jonathan Turley at Jonathan Turley
President Joe Biden's speech in Philadelphia has produced sharply different responses from the media. On CNN, it was praised as a rallying cry for patriots. On conservatives sites, it was denounced as hateful and divisive.  For many of us, however, the optics was a glaring distraction with the intense red background and prominently placed Marines framing the President. The use of the Marines and the Marine band raised concerns given the clearly political purpose of the speech. Indeed, the networks did not view the speech as an address to the nation and refused to give the White House primetime slots.
While White House press secretary Karine Jean-Pierre assured the media that "it's not a political speech," it was unabashedly political from calls to get the vote out to direct attacks on "MAGA Republicans" and Donald Trump. That again raised the legal questions over the use of the Marines in such a speech. Even CNN flagged the concern over the use of the Marines and CNN chief White House correspondent Kaitlan Collins stated the obvious that "it was a very political speech."
The optics of the speech instantly became a source of Internet chatter with the weird red background that made the President look like he was giving a stump speech from Dante's Inferno. Indeed, it almost had that High Chancellor Adam Sutler look from V for Vendetta. (The comparison ultimately did not end with just the optics. Sutler warned his inner circle that "every day…brings us closer to November" and "I want this country to realize that we stand on the edge of oblivion. I want every man, woman and child to understand how close we are to chaos…to remember why they need us!").
However, it was the use of the Marine guards that most stood out — framing the President as he declared Trump supporters to be a threat to democracy . Biden denounced "MAGA Republicans" thirteen times as well as repeated references to his past and possible future political opponent, Donald Trump.
The speech was obviously political, as noted by CNN's Collins, as a "full frontal attack" on his political opponents.
The United States has long drawn a line between the work of federal employees…
Continue Reading