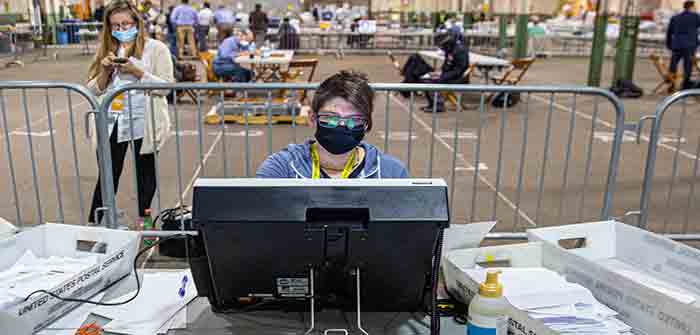 by Mark Niesse at The Atlanta Journal-Constitution
Update: A judge is considering releasing a redacted version of the report based on requests in court Thursday from Secretary of State Brad Raffensperger and plaintiffs in an election security lawsuit.
A confidential report alleges that hackers could flip votes if they gained access to Georgia's touchscreens, drawing interest from the U.S. Department of Homeland Security, Louisiana election officials and Fox News.
One key agency hasn't asked the court to disclose the report: the Georgia secretary of state's office.
There's no sign that state election officials have done anything about the vulnerability, a potential flaw dangerous enough to be kept under seal, labeled in court as "attorneys' eyes only" six months ago.
The vulnerability hasn't been exploited in an election so far, according to examinations of the state's Dominion Voting Systems equipment, but election security experts say it's a risk for upcoming elections this year. Investigations have repeatedly debunked allegations of fraud in the 2020 election.
Georgia election officials won't say what actions they've taken, if any, to improve security or detect tampering. State election officials declined to answer questions about a report they haven't seen, which outlined the flaw as part of a lawsuit aimed at forcing the state to abandon its $138 million voting system that prints out paper ballots and instead use paper ballots filled out by hand.
Several election integrity advocates said Georgia Secretary of State Brad Raffensperger shouldn't ignore the issue, even if he believes existing protections would prevent illicit access to voting equipment.
"It's really concerning that the Georgia secretary of state and Dominion are kind of putting their head in the sand," said Susan Greenhalgh, an election security consultant for plaintiffs suing over Georgia's voting system. "Common sense would say you would want to be able to evaluate the claims and then take appropriate action, and they're not doing any of that."
Dominion became a frequent target of misinformation after the 2020 election, when election skeptics falsely claimed the company's voting equipment produced fraudulent results. Georgia's election results were checked by a recount of all 5 million paper ballots and multiple investigations.
Voting machine penetrated…
Continue Reading