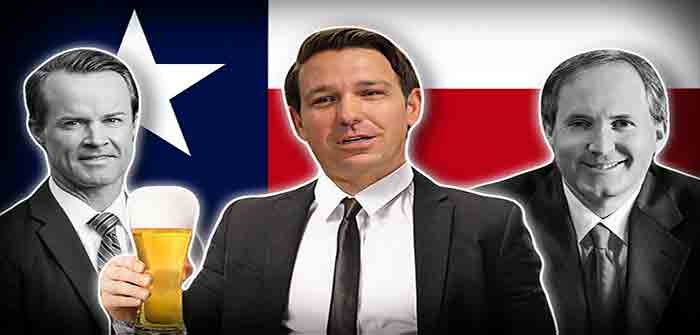 by Lara Loomer at Loomer Unleashed
Ron DeSantis is holding a fundraiser in Houston, Texas on September 20th at the home of Dr. Riva Collins and Ira Mitzner. The fundraiser for Ron DeSantis's Presidential campaign is being held in the same vicinity of a fundraiser for RINO Texas Speaker of the House Dade Phelan, who recently led the charge to impeach pro-Trump Texas Attorney General Paxton over false accusations of corruption and bribery. Many of the same donors attending Phelan's September 20th fundraiser are also attending DeSantis' event, and sources have confirmed to me that Phelan and DeSantis will be meeting in Texas together as well as fundraising together in Texas this week where DeSantis will spend the entire week in a multi city fundraising blitz across Texas.
This week, DeSantis, the absentee Governor of Florida, is expected to visit six cities in Texas over four days, including campaign photo-ops and fundraisers in the Texas cities of Midland, Houston, Tyler, Dallas, Waco, and San Antonio.
September 19: Midland, Texas
September 20: Houston, Texas
September 21: Tyler, Texas and Dallas, Texas
September 22: Waco, Texas and San Antonio, Texas…
Continue Reading