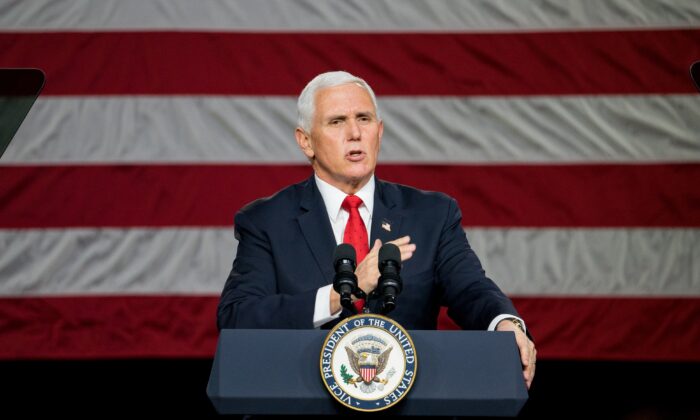 Vice President Mike Pence addressed the upcoming Jan. 6 electoral challenge, saying that President Donald Trump and Republicans will "have our day in Congress."
"I know we all got our doubts about the last election. … I promise you, come this Wednesday, we'll have our day in Congress. We'll hear the objections. We'll hear the evidence, but tomorrow is Georgia's day," Pence told a crowd in Rock Springs Church in Milner, Georgia, while campaigning for Sen. Kelly Loeffler (R-Ga.) and David Perdue who face Senate runoff elections on Jan. 5.
Pence, as vice president, is the president of the Senate. During the joint session on Jan. 6, he will read the electoral votes for all 50 states. Although some legal experts have suggested that he has the ability to reject slates of electors in certain states, others have stipulated that Pence only has the ability to count states' electors.
Pence's role in the upcoming joint session was brought into a different light last week after Rep. Louie Gohmert (R-Texas) filed a lawsuit against the vice president to strike down a provision in the 1887 Electoral Count Act. Gohmert in his lawsuit—which was later dismissed—asserted that Pence is empowered by the Constitution's 12th Amendment to reject states' electors who favored Joe Biden.
The vice president on Jan. 4 didn't elaborate on his role during the joint session of Congress.
Pence's chief of staff last week said the vice president welcomes efforts by lawmakers to challenge the results on Jan. 6, saying he "shares the concerns of millions of Americans about voter fraud and irregularities in the last election."
Earlier in the speech, Pence told the crowd that Republicans have thousands of people watching the election this time and encouraged people to come out and vote for Loeffler and Perdue. The Republican senators are facing Democrats Raphael Warnock and Jon Ossoff, with potential control of the Senate at stake…
Continue Reading