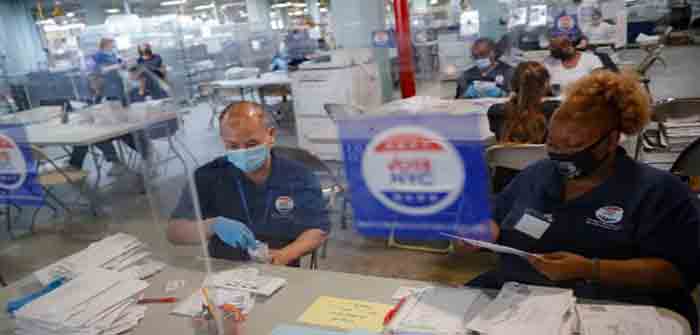 Ohio Attorney General Dave Yost backed a GOP lawsuit and asked the U.S. Supreme Court to overturn a ruling that extended a deadline for absentee ballots in Pennsylvania, a key battleground state in the presidential election.
Yost, a Republican, is going to the high court to do away with a ruling that allows officials in the Keystone State to accept absentee ballots up to three days after Election Day, Nov. 3.
Yost and other state attorneys said the court should overturn the Pennsylvania Supreme Court's decision, saying that "state legislatures, not state courts, set the rules for picking presidential electors."
"The States need an answer to that question, which is certain to arise again in future elections. And it is important to provide that answer now because, without a ruling from this Court, doubts will continue to linger about whether the vote count in Pennsylvania was performed in conformity with the Constitution," said the filing, signed by Ohio Solicitor General Benjamin Flowers as well as Chief Deputy Solicitor General Michael Hendershot.
Pennsylvania's Republican leaders and GOP state lawmakers, along with President Donald Trump's campaign, have asked the U.S. Supreme Court to toss out Pennsylvania's ruling and throw out the post-Election Day ballots. The Pennsylvania Supreme Court cited the COVID-19 pandemic for the mail-in ballot date extension.
Trump and his campaign have claimed widespread voter fraud and irregularities in several key states, while Trump has noted that the vote count went up for Democratic candidate Joe Biden after Election Night in several battleground states. State officials have said it was due to mail-in ballots being counted.
Yost's filing was in relation to the case, Republican Party of Pennsylvania v. Boockvar, referring to Pennsylvania Secretary of State Kathy Boockvar, a Democrat.
"This constitutional question will come up again in future elections. It is in the best interest of all Ohioans—all of America—to gain a definitive answer, regardless of politics," Yost stated in a news release accompanying the suit. In all, 10 Republican state attorneys general, including officials from Ohio, Kentucky, Missouri, and Oklahoma filed the amicus brief.
Yost said that if the ruling is overturned by the Supreme Court, "I don't know that it will change the outcome" if the votes are discarded. "The electoral college meets on Dec. 12 and then we will have a president and I will accept the outcome of that process and so should everyone in Ohio," he added when asked if Biden is the president-elect…
Continue Reading