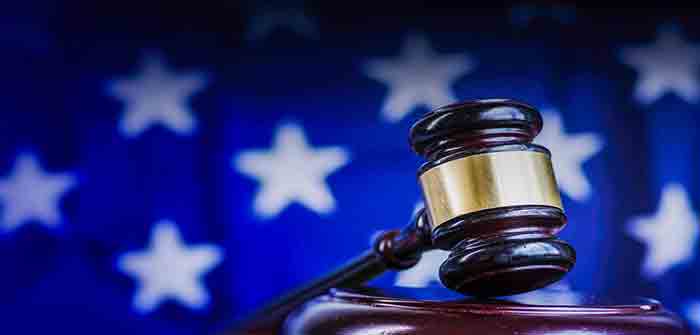 Editor's note: Trump's lawyers are already appealing this ruling. Here's what Trump said on his Telegram channel "I HAVE ABSOLUTELY NO IDEA WHO THIS WOMAN IS. THIS VERDICT IS A DISGRACE – A CONTINUATION OF THE GREATEST WITCH HUNT OF ALL TIME!…VERY UNFAIR TRIAL!…WHAT ELSE CAN YOU EXPECT FROM A TRUMP HATING, CLINTON APPOINTED JUDGE, WHO WENT OUT OF HIS WAY TO MAKE SURE THAT THE RESULT WAS AS NEGATIVE AS IT COULD POSSIBLY BE, SPEAKING TO, AND IN CONTROL OF, A JURY FROM AN ANTI-TRUMP AREA WHICH IS PROBABLY THE WORST PLACE IN THE U.S. FOR ME TO GET A FAIR "TRIAL."
by Sundance at The Conservative Treehouse
The nature of our politically corrupt justice system takes on new clarity today as a jury in New York City decided President Trump did not rape E. Jean Carroll, the crazy moonbat funded by political operatives, but President Trump did defame her in his denial of the accusation.  Thus, the jury awards damages to the false accuser, while finding the accused not guilty.
Presumably the position of the jury was that something 'may have happened' because this was not a criminal trial outcome which would be based on "beyond a reasonable doubt" as the standard.  Instead, this verdict was based on the possibility that something 'may have happened,' albeit not proven, and President Donald Trump was defamatory toward the accuser in his strong denials of the accusation.
The jury awarded $2million in compensatory damages and $20,000 in punitive damages for the battery allegation. The jury awarded $1 million in compensatory damages for the defamation and $1.7million for the repair of her reputation. They awarded another $280,000 in punitive damages for the defamation. (read more)
Keep in mind that New York wrote a new law specifically to provide E Jean Carroll a pathway to file a lawsuit over the allegation that something might have happened sometime in the past, though the accuser could not identify what year President Trump assaulted her.  The accuser, a woman of notoriously odd behavior and remarkably unstable mindset, was funded by billionaire LinkedIn founder and very vocal Trump critic, Reid Hoffman.
New York created the new law for Ms. Carrol…
Continue Reading