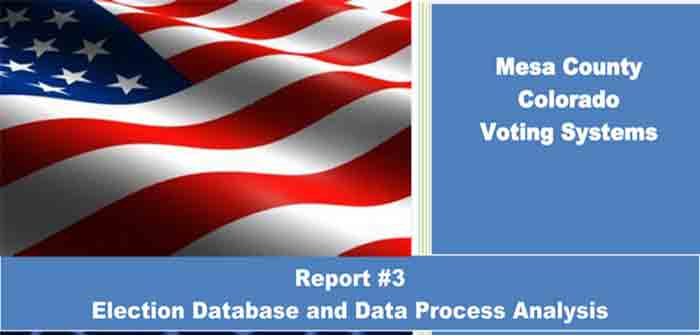 by Emerald Robinson at Emerald Robinson's The Right Way
A new report from two cybersecurity experts who have reviewed all the election data from Mesa County, Colorado shows that a second and illegal database was secretly installed and used to manipulate votes in the 2020 election.
The report — officially called Mesa County Colorado Voting Systems Report #3 — was written by experts who analyzed all the data from Mesa County's election server, which was saved before the Colorado Secretary of State and the electronic voting machine company "overwrote" and wiped away the contents of the server's hard drive.
The report describes exactly how the electronic voting machines were used to change votes in the 2020 election — without election officials being aware of any fraud.
Let's review the key findings of the report, and see the actual forensic evidence of the cheating, shall we?
Key findings in the Mesa County Report
Here are the five key findings — followed by images of the relevant data from the report's appendix.
1. Creation of multiple databases: The Mesa County voting system server should have had three databases in its election project for each election. But in Mesa County's system, two additional databases were found for two separate elections. The existence of those additional databases, and the movement of ballot records between them, breaking the chain of evidence needed for ballot and vote authentication is proof of voting system non-compliance with Federal Voting System Standards mandatory under Colorado law, and proof of manipulation. This is akin to having two sets of accounting records in a business, to hide fraudulent and illegal financial transactions.
And here's the relevant screenshot of the databases from the EMS server.
---
Key Finding # 2
There was a shadow database created and the votes that the shadow database counted were not identical to votes in the authorized database.
2. A pattern of multiple illegal databases in separate elections: Multiple databases were found in both the 2020 election records, and in the 2021 election records. Slight variations in the method of ballot and batch record copying between databases reinforces the conclusion that the manipulation was deliberate.
And here's the relevant database screenshot.
---
Key Finding # 3…
Continue Reading