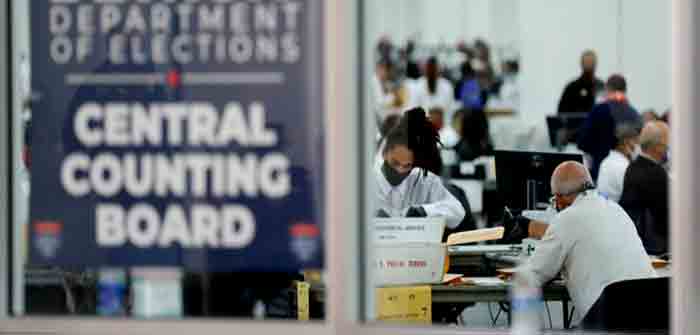 Elections officials in Michigan and Wisconsin refused to explain Democratic presidential nominee Joe Biden's sudden and dramatic vote tally increase that occurred in both states Wednesday morning.
Michigan and Wisconsin state officials warned against misinformation being shared online, but wouldn't comment on specific vote tranches that appeared to show former Vice President Joe Biden suddenly receiving more votes than President Donald Trump. The two battleground states remained tightly contested as of Wednesday afternoon, according to The New York Times.
Voter tallies from both states spiked at around 6 a.m. in favor of Biden, according to graphs of live tallies posted by FiveThirtyEight. Trump tweeted multiple times Wednesday morning claiming that officials are finding votes for Biden "all over the place."
"I would ask everyone to not repeat misinformation," Michigan Sec. of State Jocelyn Benson told reporters at a Wednesday press conference when asked about the tallies that appeared to overwhelmingly favor Biden.
"We've seen in a number of elections already this year, the use of false graphics to try to indicate that there is some sort of problem happening," Benson continued. (RELATED: Here's What The Election Looks Like, As Battleground States Remain Undecided)…
Continue Reading