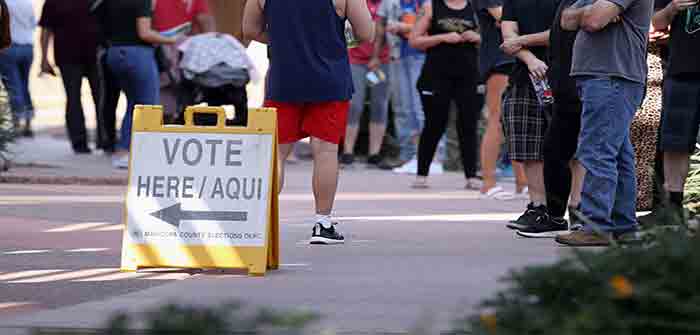 by Mark Finchem at LewRockwell
Thank goodness for good investigative journalism. Not the Soros-backed, derivative, propaganda pieces the Left likes to put out in the Main Stream Media that they call journalism, but real, honest investigations of real issues.
Jordan Conradson at the Gateway Pundit revealed something shocking about the elections in Maricopa. She highlighted to the Gateway Pundit  severe election day issues that made having a secure election impossible. I detail some of the biggest issues she highlighted below. This testimony comes from an election judge who revealed this information to the Gateway Pundit, and asked them to redact his name, but will testify in court if necessary.
The Election judge stated:
"The massive lines were real. We had close to 200 people in line at one point, and it was a two-hour wait. And we had people walking off of the line because they just couldn't wait anymore."
This was a result whereby other voting centers were seemingly sending their voters to this one election center despite not having proper check-out procedures.
In particular,…
Continue Reading