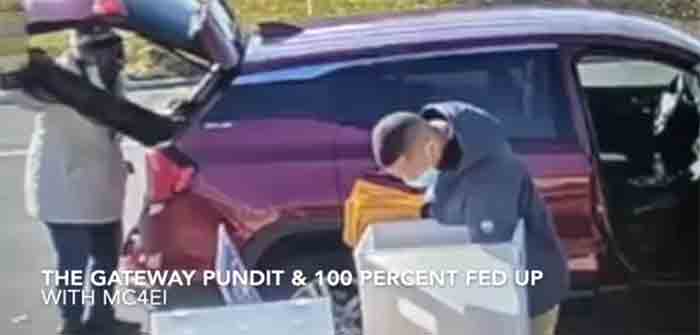 by Patty McMurray at The Gateway Pundit
Several months ago, the Gateway Pundit obtained surveillance video footage from 19 absentee ballot drop boxes in Detroit from the 2020 election. 100 Percent Fed Up began working with MC4EI (Michigan Citizens For Election Integrity), who poured through 16,000 hours of video footage to identify potential criminal activity that took place during the 2020 election.
So far, we've been able to share multiple cases of suspicious and possibly criminal activity taking place at several drop box locations. From massive ballot drops of 40-50 ballots by individuals or teams of two individuals to hundreds of people taking photos of their hands dropping ballots into the drop boxes, to Dominion tabulators being delivered to a satellite voting center where top election officials say there are no tabulations taking place, we've been able to share a variety of suspicious activities taking place at Detroit satellite voting centers, that if Michigan had a law and order Attorney General or honest Secretary of State, would be under investigation.
The chain of custody is a significant issue in Detroit.
100 Percent Fed Up reports – How are ballots being accounted for that are being picked up at drop boxes? And are Detroit election workers required to use a secure and authorized ballot transfer case to move absentee ballots from the drop boxes to the Detroit Department of Elections?
In video surveillance footage from a drop box at WCCCD Northwest in Detroit, a young male wearing a face mask can be seen emptying absentee ballots from a drop box at a satellite voting center. While we cannot confirm who they work for, we assume they are Detroit election workers. As the male retrieves stacks of ballots from the drop box, an older black female is shown pulling a large black garbage bag from the back of the SUV. She brings the bag to the drop box and opens it as the white male begins dumping handfuls of absentee ballots into the black plastic garbage bag.
When the Detroit ballot drop box has been emptied,…
Continue Reading