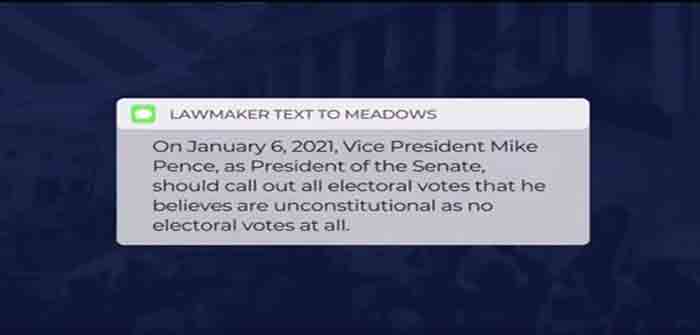 by Sean Davis at The Federalist
Following reporting by The Federalist that Rep. Adam Schiff, D-Calif., and his staff doctored a text message between Rep. Jim Jordan and former White House chief of staff Mark Meadows, the House Jan. 6 committee admitted over email that it did, in fact, doctor the text message.
As The Federalist reported on Wednesday morning, on Jan. 5, 2021, Jordan forwarded to Meadows a three-paragraph legal summary from attorney Joseph Schmitz, summarizing a four-page legal memorandum Schmitz had written regarding congressional certification of the 2020 presidential electoral vote count.
In a statement provided to The Federalist via email, a Democrat spokesman for the Jan. 6 committee confessed that the committee doctored the text message.
"The Select Committee on Monday created and provided Representative Schiff a graphic to use during the business meeting quoting from a text message from 'a lawmaker' to Mr. Meadows," the spokesman wrote. "The graphic read, 'On January 6, 2021, Vice President Mike Pence, as President of the Senate, should call out all electoral votes that he believes are unconstitutional as no electoral votes at all.'"
"In the graphic, the period at the end of that sentence was added inadvertently," the spokesman admitted. "The Select Committee is responsible for and regrets the error."
The Jan. 6 committee spokesman did not explain how one could "inadvertently" cut a sentence in half and eliminate the final two paragraphs of a detailed legal summary, nor did he explain why Schiff attributed the content of the text to Jordan, "a lawmaker," rather than to Schmitz, the attorney who wrote it.
As The Federalist reported on Wednesday morning, the original Jan. 5 text to Jordan was written by Washington attorney and former Department of Defense Inspector General Joseph Schmitz and included an attachment of a four-page draft Word document drafted by Schmitz that detailed Schmitz's legal reasoning for suggesting that Pence had the constitutional authority to object to the certification of electoral votes submitted by a handful of states. The piece that Schmitz had sent to Jordan was published at the website everylegal.vote the next morning and even included the same "DISCUSSION DRAFT" heading and timestamp as the document that Schmitz sent to Jordan.
In his statement…
Continue Reading