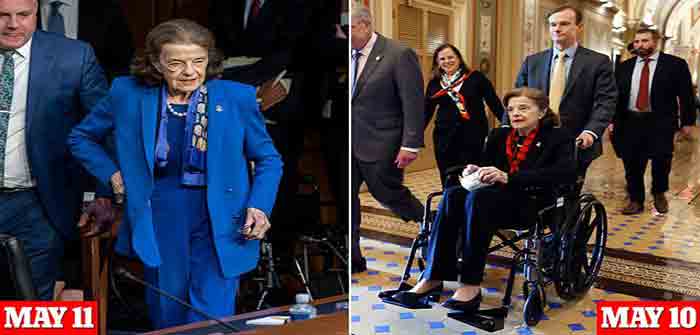 by Andrea Cavallier at Daily Mail
Senator Dianne Feinstein, 89, returned to Congress last week in a wheelchair and said in a statement she's on doctor's orders to work a lighter schedule
On Tuesday, she appeared to forget her nearly three-month absence and insisted she had been present and voting: 'You either know or don't know'
Feinstein has faced calls to resign amid her health struggles and concerns that her absence could hold up confirmations of President Joe Biden's judges
Senator Dianne Feinstein sparked confusion during her first appearance in the Senate in close to three months by claiming she has been there the whole time.
'No, I've been here. I've been voting,' the 89-year-old told reporters on Tuesday when they asked how she was feeling and what her colleagues thought of her return. 'Please. You either know or don't know,' she confusingly added.
The California senator has been on an extended absence following a case of shingles. She returned last week in a wheelchair and said in a statement she's on doctor's orders to work a lighter schedule.
Her appearance sparked calls for her to resign – with Tuesday's bizarre claim to Slate magazine likely to lead to further calls for the senior senator to bow out.
Feinstein showed up twice to vote and has attended committee hearings since she returned last week, but last Wednesday was the first time she had been at the U.S. Capitol since she left in February…
Continue Reading