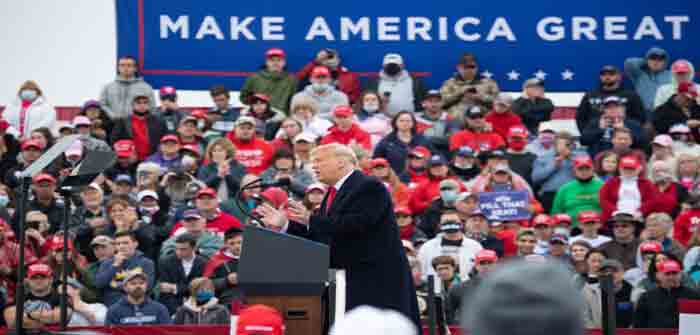 One of the early prizes of Election Night, Florida, was called for President Donald Trump over Democratic challenger Joe Biden, securing the president 29 crucial electoral votes.
Decision Desk, a team of news organization experts, called the race for the Sunshine State at around 8:11 p.m. ET.
While some pundits proclaimed Florida was in play for Biden, his campaign had a more optimistic tone.
"We feel really, really good about where we stand in Florida," Trump campaign manager Bill Stepien said on a call with reporters earlier in the day. He acknowledged that mail-in voting trended heavily toward Democrats, but noted that in 2016, Trump ultimately won in the end.
"They will indicate the victory that we very much expect tonight," Stepien said.
Stepien credited the win with Trump's campaign reaching out to new potential voters, including the sizable Cuban, Colombian, Venezuelan, and Puerto Rican communities in the state.
Decision Desk HQ Projects Trump (R) Has Won The State Of Florida And Its 29 Electoral Votes

Race Called At 11-03 08:11 EST

All Results: https://t.co/6GfosqGUrH

— Decision Desk HQ (@DecisionDeskHQ) November 4, 2020
"This is something the president had instructed us to do pretty early in the campaign," senior adviser Jason Miller said, according to Fox News. "What we're seeing with the Cuban-American community, Colombian-American community, Venezuelan-American community in south Florida is nothing short of spectacular," Miller added. "There is so much energy."…
Continue Reading