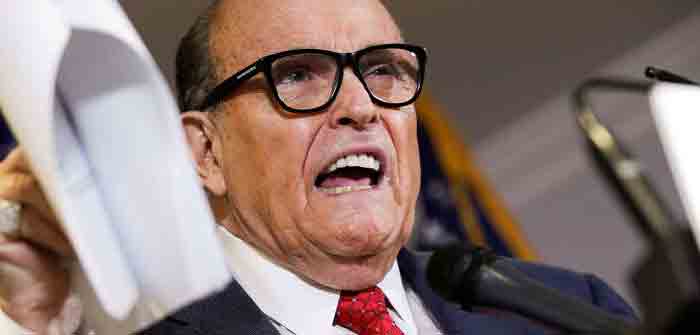 by Paul Farhi at MSN News
The Washington Post, the New York Times and NBC News all reported Thursday that the FBI had briefed the lawyer to President Donald Trump that he was a target of a Russian disinformation campaign during his efforts to dig up unflattering information about then-candidate Joe Biden in 2019.
In fact, the news organizations later said in corrections appended to their stories Saturday that Giuliani had not been briefed by the FBI.
The original stories were published after Wednesday's FBI raid of Giuliani's office and home, part of a criminal investigation of his activities in Ukraine. In the corrected versions of their stories, both The Post and NBC reported that the FBI was aware that Giuliani was a target of a Russian operation — and that it planned to warn him about this but ultimately did not.
The three news organizations were reluctant Monday to discuss their sources and reporting methods. In its correction, NBC said the incorrect claim about a Giuliani disinformation briefing "was based on a source familiar with the matter, but a second source now says the briefing was only prepared for Giuliani and not delivered to him, in part over concerns it might complicate the criminal investigation of Giuliani."
The Washington Post, which was the first to present the briefing claim, originally cited "several current and former U.S. officials" and "people familiar with the matter" as the sources of the information it later retracted.
But it appears that competitive pressures and a lack of a response from Giuliani and his representatives on deadline helped push the stories in the wrong direction.
"We weren't rigorous enough," conceded Times editor Dean Baquet in an interview Monday.
Baquet said the Times reporters scrambled to match what appeared to be a major Giuliani scoop by The Post after it was published Thursday. "I think we all tend to drop our guard when we get beat and are trying to catch up," he said. "We need to grill sources more to make sure we understand exactly what they're confirming. We've all discussed it, corrected it, and we need to do better. Dealing with anonymous sources in law enforcement and intelligence is always hard."
Meanwhile, the reporters on the story had attempted to reach Giuliani for comment before they published, but the lawyer did not respond — apparently because his phone and other electronic devices had been confiscated during the FBI raid. His attorney, Robert Costello, also did not respond to multiple requests for comment by Post reporters Thursday.
The Times attached a correction to its story on Saturday that read: "An earlier version of this article misstated whether Rudolph W. Giuliani received a formal warning from the F.B.I. about Russian disinformation. Mr. Giuliani did not receive such a so-called defensive briefing."
The Post's correction also addressed another mistaken aspect of its story — the role of One America News, a conservative cable TV channel. The Post initially said OAN had been warned by the FBI as well; in fact, it hadn't been. The correction noted that its story had been updated to remove the assertion.
Post interim executive editor Cameron Barr declined to comment. He referred to a company statement that said "it is now believed the bureau did not" brief Giuliani and OAN about Russian disinformation efforts.
NBC News offered no comment after being contacted Monday.
CNN also picked up on the inaccurate Post story, repeating its inaccurate claim during a segment Friday. But a network spokeswoman, Lauren Pratapas, indicated that the network didn't intend to issue a correction about the segment. She instead pointed to a CNN.com news story about The Post's correction.
The inaccurate reporting, which was based on anonymous sources, fueled suspicions among conservative news outlets about the mainstream news media.
Giuliani — who on Monday told Fox News in an interview that federal investigators were trying to "frame" him — tweeted Saturday: "Where did the original false information come from?@MSNBC, @CNN, @nytimes, I couldn't quite hear your apology?"
He later tweeted: "On a Saturday, the Washington Post added this correction to their defamatory story about me. The Washington Post and the NYT must reveal their sources who lied and targeted an American Citizen. #msnbc , #cnn forgot to mention the corrections today. #fakenews #badpeople."…
Continue Reading