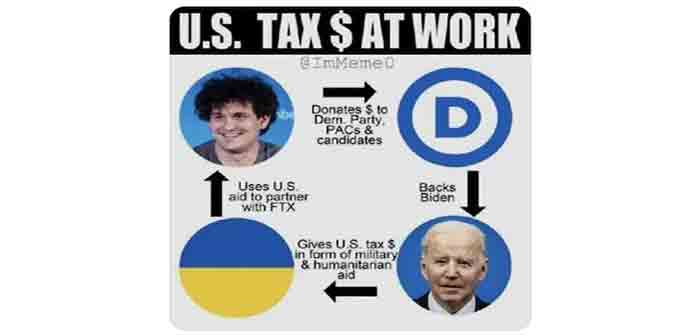 by Maajid Nawaz at Radical Media – by Maajid Nawaz
The collapse of crypto exchange FTX, and its CEO and co-founder Sam Bankman-Fried's subsequent loss of unaccounted for billions, is a graver scandal than corporatist media would care to admit. The story connects directly to the World Economic Forum (WEF), the Great Reset, the war in Ukraine, the US Democratic Party under Biden, and incredibly suspicious allegations of election money laundering.
Read on.
1) The Context
To begin, it is important to note the context in which the FTX collapse came.
And just like that, Zelensky is now prepared to talk peace.
Regular readers of the Radical Dispatch will note that we have been stating for months now that there is no option but to sue for peace.
So how does the collapse of FTX, and the associated loss of billions, relate to Zelensky now calling for a negotiated end to the war in Ukraine?
It is important to follow the money:
"Above left & right wing sits FINANCE. And above finance sit ideas about our civilisational direction of travel. If you're someone with these civilisational ideas & you have finance, you can FUND both left and right to advance your direction of travel"pic.twitter.com/RvpXQSnbOV https://t.co/Bq88bt7xGO

— أبو عمّار (@MaajidNawaz) November 11, 2022
So how much money has gone missing?
CNBC reports 12th November 2022:
"As Sam Bankman-Fried's FTX enters bankruptcy protection, Reuters reports that between $1 billion to $2 billion of customer funds have vanished from the failed crypto exchange.
Both Reuters and The Wall Street Journal found that Bankman-Fried, now the ex-CEO of FTX, transferred $10 billion of customer funds from his crypto exchange to the digital asset trading house, Alameda Research.
Alameda, also founded by Bankman-Fried, was considered to be a sister company to FTX. Those cozy ties are now under investigation by multiple regulators, including the Department of Justice, as well as the Securities and Exchange Commission, which is probing how FTX handled customer funds, according to multiple reports.
Much of the $10 billion sent to Alameda "has since disappeared," according to two people speaking with Reuters."
3) The Heist…
Continue Reading