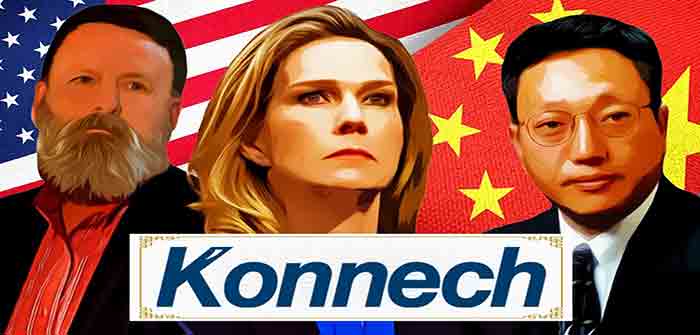 by KanekoaTheGreat at Kanekoa News
The Konnech story is much bigger than U.S. election software and best understood through the lens of China's rise into a global superpower. Regardless of the actions of federal law enforcement or county prosecutors, many of the facts of this case are archived on deleted Chinese government websites, waiting to be uncovered by those who are willing to look. What is the truth about Konnech's connection to China?
In 2019, the United States Senate released a report entitled Threats to the U.S. Research Enterprise: China's Talent Recruitment Plans that explains how China's more than 200 overseas talent recruitment plans—the most prominent of which is the Thousand Talents Plan—has contributed to China's global rise over the last 20 years.
During that time, China openly recruited U.S.-based researchers, scientists, and entrepreneurs in the public and private sector to provide China with knowledge and intellectual capital in exchange for monetary gain and other benefits.
China provides salaries, research funding, office space, and other incentives to lure overseas talents into working for China. According to an analysis by the FBI, China invested more than $2 trillion between 2008 and 2020 into human resources as part of this "whole-of-government campaign to recruit talent and foreign experts from around the world."
FBI – Chinese Talent Plans Encourage Trade Secret Theft, Economic Espionage
"Talent plans can sometimes foster legitimate sharing and collaboration as part of an appropriate business arrangement or research exchange, but this is not the norm. Instead, talent plans usually involve undisclosed and illegal transfers of information, technology, or intellectual property that are one-way and detrimental to U.S. institutions."

An individual's undisclosed participation in a talent plan may:

"Pose risks to national security because of the participant's obligation to the Chinese government"
"Result in inappropriate use of taxpayer funds if the participant is awarded a U.S. government grant"
I will make three main arguments today.
First, the story of Konnech is the story of Jinhua Yulian Network and Jinhua Hongzheng Technology. While the New York Times confirmed the existence of Konnech's Chinese subsidiary the day before Eugene Yu's arrest, the U.S. media has been completely silent on the subject ever since. Why report on Eugene Yu's arrest or his defamation case if you aren't going to talk about his Chinese companies? These companies have large digital footprints, more employees than Konnech, and are the real story of Eugene Yu's success.
Second, Eugene Yu was accepted into the Chinese Academy of Sciences Jinhua Science and Technology Park ("the Park") on January 25, 2006. The Chinese Government has financed, developed, and ultimately controlled Jinhua Yulian Network ever since. Specifically, Eugene Yu is contractually obligated to follow the laws of the People's Republic of China and the rules of the Park. In exchange, the Chinese government has provided Eugene Yu with money, software, and success beyond his wildest dreams.
Third, it is highly unlikely that Eugene Yu reported any of his foreign income to the U.S. government. For example, on July 18, 2007, Eugene Yu posted an ad on the Park's website offering ¥ 5,000,000 yuan for help with developing "software packages." Eugene Yu listed Jinhua Yulian Network's URL as www.konnech.com, but do you think he told the U.S. government that Konnech's software was being funded and developed at the Chinese Academy of Sciences Jinhua Science and Technology Park?
Let me now lay out the facts in greater detail starting in the order that I discovered them.
Chinese Brief – Overseas Chinese Network…
Continue Reading