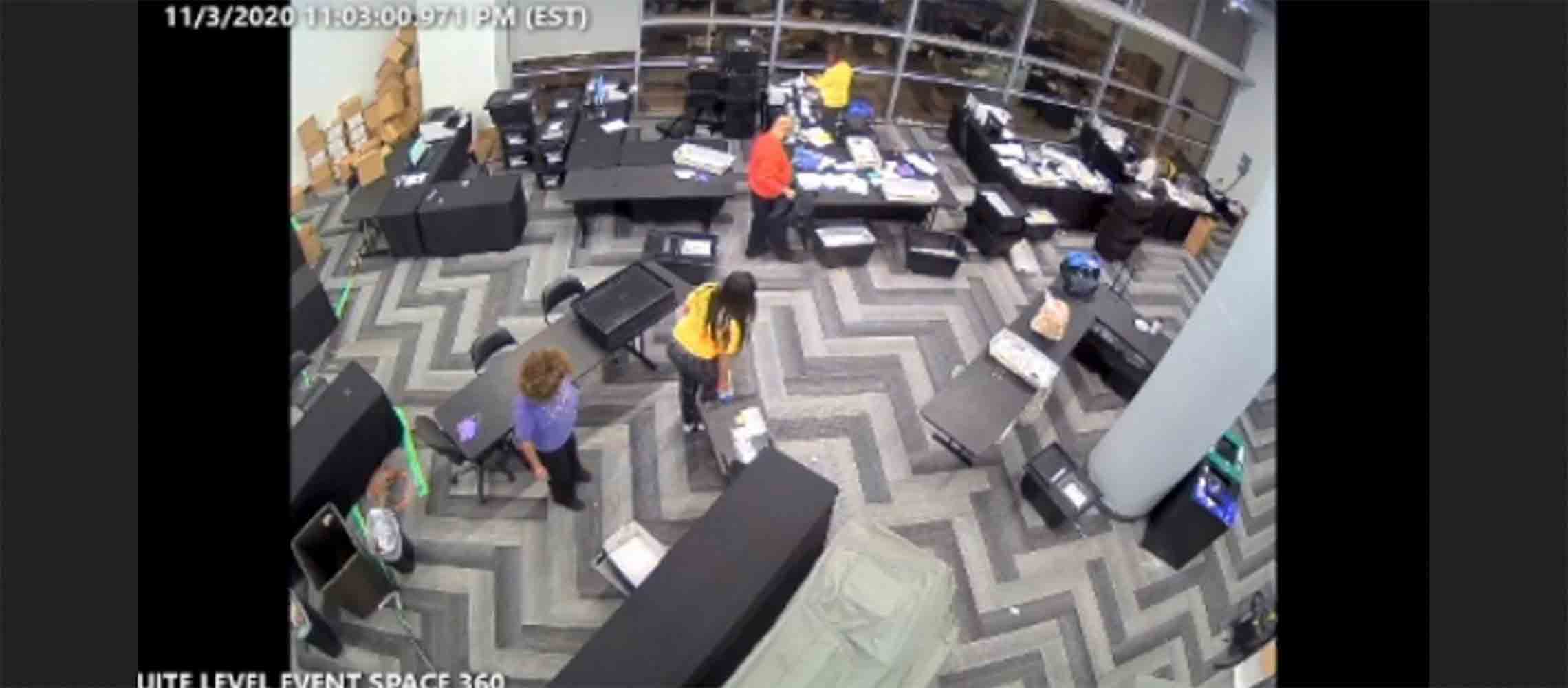 President Donald Trump's legal team on Dec. 3 presented surveillance footage at a Georgia state legislature hearing that appears to show ballot-counting workers telling poll observers late at night on Election Day to leave before continuing to count and pulling out what appears to be suitcases filled with ballots.
A spokesperson for Fulton County, in an email to The Epoch Times, did not dispute the authenticity of the video.
"To date, we are aware of no credible reports of voter fraud or wrongdoing in Fulton County. Any credible report of such activity will be investigated and addressed as provided by Georgia law," the spokesperson said.
In the hearing on Dec. 3, Jackie Pick, a lawyer who is volunteering with the campaign's legal case, said the team received video footage from State Farm Arena's vote-tabulation center in Fulton County, Georgia. The team said that GOP poll watchers weren't allowed to watch the counting process in the poll center.
According to Pick, an unusual occurrence took place later in the evening at around 10 p.m. local time. A woman—described as a blonde woman with braids—told workers to stop counting and notified everyone to go home.
Describing the video footage, Pick said, "Everyone clears out, including the Republican observers and the press, but four people stay behind and continue counting and tabulating well into the night." The four counted unobserved until about 1 a.m.
Pick said that video footage shows Fulton County election workers waiting at their scanning areas until GOP poll watchers and reporters left the room before they started "scanning ballots," ostensibly without any observation. Pick noted that this contravenes state and county law.
WATCH: Footage of State Farm Arena in #Atlanta shows that after poll monitors and media were told counting was done, four workers stayed behind to count #ballots, at times pulling out suitcases containing ballots from underneath desks.

Watch full video: https://t.co/EHnM5HZFWj pic.twitter.com/xuT8Svgxbr

— The Epoch Times (@EpochTimes) December 3, 2020
At 11 p.m., once everyone was gone, the workers are seen "pulling ballots out from underneath a table." At the hearing, Pick asked rhetorically whether it's normal to "store suitcases of ballots under a table cloth." She said after reviewing footage that it's not a normal procedure.
It's not exactly clear if what the workers were pulling from the suitcases were ballots.
Also unclear is whether election workers knew they were being recorded. The footage was taken by security cameras belonging to State Farm Arena.
The lawyer further alleged that the same woman with the blonde hair in braids, presumably the manager, had placed the table there earlier. It's not clear where those ballots came from, and it's not clear when the purported suitcases of thousands of ballots were placed under the table. Whether they're suitcases or a special carrier for ballots also isn't clear.
Witnesses have sworn in affidavits that the counting continued until the early morning hours, Trump's team said…
Continue Reading