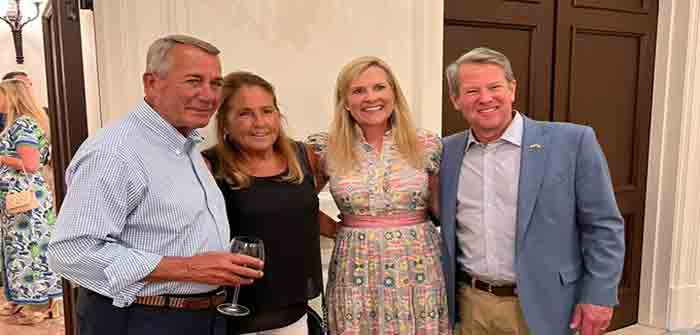 by Sundance at The Conservative Treehouse
The Bush clan is always in the background, like the stench of a rotting whale carcass just over the horizon.
With Georgia on their mind for 2024, Governor Brian Kemp hosts a stop Trump confab at their infamous and preferred Sea Island retreat.  Meanwhile, thanks to the intrepid boots-on-ground reporting of Laura Loomer, we discover that Georgia Secretary of State Brad Raffensperger is meeting with Zuckerberg's far-left Center for Election Innovation & Research (CEIR), in Washington DC.
Why would state election officials be meeting with far-left election manipulation groups.  Well, put those two datapoints together, and once again the strings on the election official marionettes start glowing.  As we have said from the outset of the DeSantis construct in early 2022, watch the Republican Governor's Association (RGA) closely.
We are about to see exactly how the billionaire corporate funders control the Red State operations and manufacture the 'illusion of choice'.  The difference between now and the Romney era of 2012, through the Bush era of 2016, is that the American electorate are eyes-wide-open.  We are watching the assembly in real time, and once again at CTH we have no financial affiliation to influence our sunlight.  The gang might be getting back together, but The Truth Has No Agenda.
[Source – May 8, John Boehner attending Stop Trump Summit]
GEORGIA – […] Kemp gathered donors this week for a three-day retreat on Sea Island, Georgia, to plan for the 2024 campaign with a focus on the specific role of Georgia, a vital state for Republicans if they have any hope of winning the White House. According to a source familiar with the retreat, the event raised $1.2 million for Kemp's committees. 

The retreat comes as former President Donald Trump leads in the polls among 2024 GOP presidential candidates, with Florida Gov. Ron DeSantis in second — but trailing — as he prepares to announce his campaign.

Kemp's activities around 2024 raise his national profile and position him…
Continue Reading