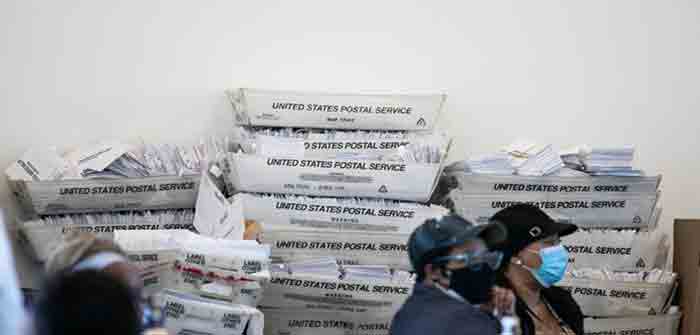 by John Solomon at Just the News
The Georgia Elections Board has approved a subpoena to secure evidence and testimony in an ongoing investigation into whether third-party liberal activists illegally gathered thousands of absentee ballots in the 2020 general election and a subsequent runoff that determined Democrat control of the U.S. Senate.
The vote was a major win for Secretary of State Brad Raffensperger, who announced the investigation into alleged ballot harvesting in January and was seeking the subpoena authority to assist the probe.
The subpoena power will allow Raffensperger's team to secure evidence about a whistleblower who alleged to an election integrity group that he participated in a large operation to gather ballots in which activists were paid $10 for each ballot they delivered.
Georgia law expressly prohibits third parties from collecting, gathering or delivering absentee ballots, except in the case of immediate relatives.
A vote on the subpoena was delayed by weeks as the Elections Board could not decide on a new chairman. But at a meeting last week, the board unanimously chose member Matthew Mashburn to be acting chairman.
The board then voted out the subpoena in a closed session, according to audio of the meeting reviewed by Just the News.
"All the board members are here," Mashburn said after emerging from the closed-door session. "A quorum is in order. We went into executive session for purposes of discussing pending and potential litigation and for the board to authorize subpoenas in case no. 2020-10-Dougherty County and 2022-003 ballot harvesting."
Officials said the new subpoena powers will be used by Raffensperger's office to secure evidence from the election integrity group True the Vote, which filed a complaint in November saying it had acquired videotapes, a whistleblower's admission and cell phone location records showing what appeared to be a widespread ballot harvesting operation in the November 2020 general election and January 2021 election runoff.
The group's complaint said surveillance camera footage showed ballot traffickers delivering stacks of ballots to drop boxes between midnight and 5 a.m. and cell phone records showed as many as 240 activists made such deliveries.
The group said a cooperating whistleblower…
Continue Reading