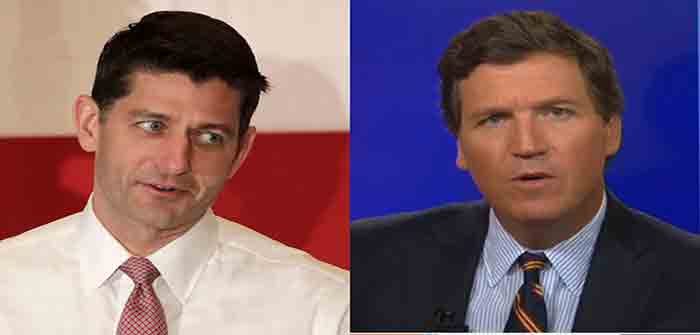 by Zachary Leeman at Mediate
Paul Ryan was grilled over his relationship with Fox News during a recent sit-down with Charlie Sykes. During the interview, the former speaker of the House and current Fox Corporation board member blasted Tucker Carlson and defended himself against charges of influencing the network's coverage.
A wave of documents from the Dominion defamation lawsuit against Fox were released this week, revealing that numerous executives and hosts at the company were questioning the 2020 presidential election conspiracy theories being pushed on the network in the wake of Donald Trump's loss.
The documents also revealed that Ryan claimed he approached Rupert Murdoch over concerns about election fraud theories being pushed with no merit, saying Fox should "move on from Donald Trump and stop spouting election lies."
Speaking with Sykes, Ryan was grilled over his relationship with Fox.
"I think it's very important to have an institution like that. Do I disagree with Tucker on this stuff? Of course, I absolutely disagree with him. Different kinds of conservatives — I don't agree with that part," Ryan said.
Sykes even provided an open letter with Ryan on the topic previously published in Politico titled, "Paul Ryan: It's Time for You to Stand Up to Fox."
Sykes summarized the letter for Ryan:…
Continue Reading