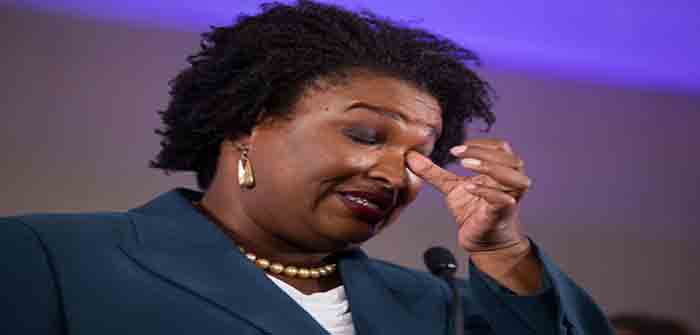 by Andrew Kerr at The Washington Free Beacon
A federal judge on Tuesday ordered Stacey Abrams's Fair Fight Action to pay over $200,000 to reimburse the state of Georgia for legal fees related to a spurious lawsuit that claimed Gov. Brian Kemp (R.) stole the 2018 gubernatorial election.
Abrams founded the group after losing to then-secretary of state Kemp, who she claimed used his position to disenfranchise minority voters in the lead-up to the election. A federal judge in late September ruled against Fair Fight Action on all counts following a four-year legal battle, saying the group provided no direct evidence that Georgia voters struggled to vote in the election.
Fair Fight Action must repay $192,628.85 in transcription fees and $38,674.86 in copying costs that Georgia incurred in defending itself against the group's lawsuit, according to a bill of costs submitted Tuesday by the U.S. District Court for the Northern District of Georgia.
Georgia secretary of state Brad Raffensberger (R.) hailed the order as a win for the state's taxpayers and voters.
"Stacey Abrams's voter suppression claims were false. It has never been easier to vote and harder to cheat in the state of Georgia," Raffensberger said in a statement. "This is a start, but I think Stacey Abrams should pay back the millions of taxpayer dollars the state was forced to spend to disprove her false claims."
Fair Fight Action's finances came under scrutiny in October after Politico revealed…
Continue Reading